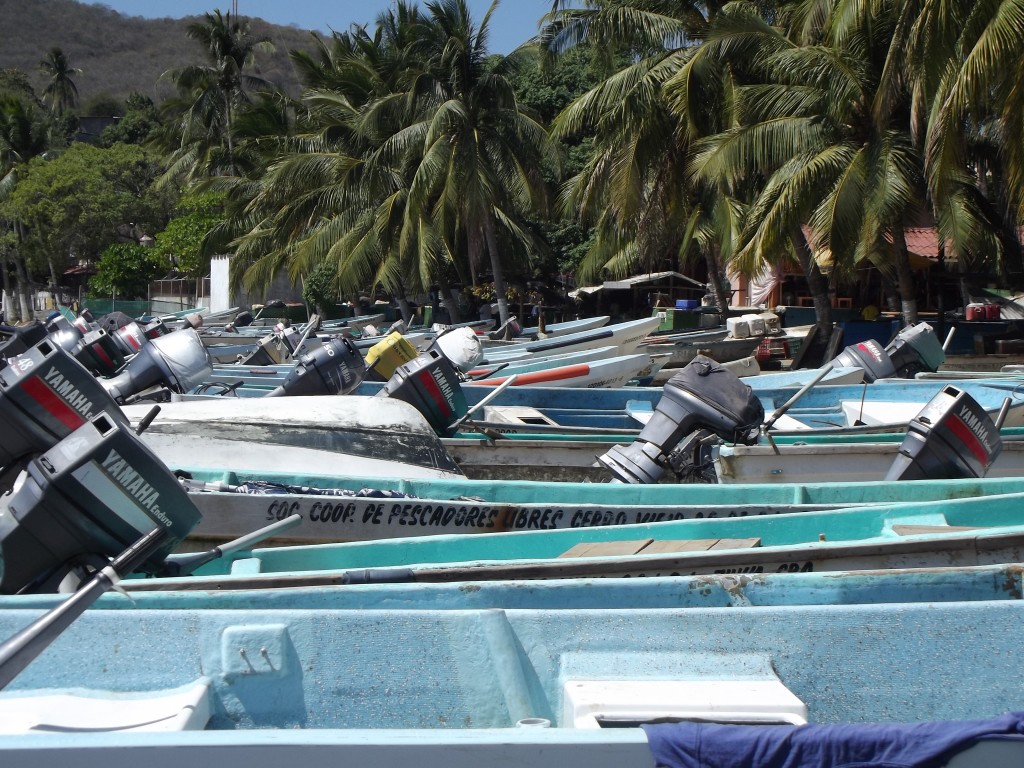 We ran up on the last day of February fairly quickly.   Since we had internet and are literally watching varnish dry today we thought we would give you a quick update on what is going on in the anchorage.
For one thing the waves are up, way up.   Our friends behind us have a beautiful anchorage, or at least from our perspective 500 yards away.   The seas are crashing up on the rocks just 100 yards or so behind them and really give you a feeling that you are close to nature.   For us, it is nice to have a cold beer with them on board but neither Bill nor Lisa could sleep soundly if we were so close to the breaks.   Today the seas are running about 6 to 7 feet high through the Bay of Zihuatanejo.   The period is long, so if you have read this blog before you know that the seas could be considered relatively comfortable if we were underway.   As it is we get a fairly prolonged roll about half of the day.   For those closer to shore the rolls are constant and if the wind is not in their favor they probably don't have a beer bottle or flower vase standing in the boat anymore.
The weather has gotten decidedly muggy over the last two days as well.   As the sun sets you can see the moisture in the air, and when it rises the decks are soaked and the carpet on the boat feels damp.  The trouble with the carpet is that we walk on it with feet that have been in the salt water all day and even though we think our feet are dry we still leave minute amounts of salt on the carpet which then attracted the moisture in the air at night.   Mildew doesn't grow so we are not completely worried, and besides we have varnish to watch.
A milestone for the website is coming up soon.   We have had nearly 10,000 unique hits on our website since we started it.   We get a lot of fun out of writing and hope that people are enjoying what we have chosen to put up on the pages.  On the day we think we will see the number 10,000 come up we will post a special splash with some of the highlights that have occurred over the last couple of years that we have been posting.   Tooting our own horns, yes, sorry.
We're not on the subject but we can't leave the site alone without mentioning Guitar Fest, Zihuatanejo, 2013.   Guitar Fest starts next week.   There are a number of cruisers around the bay that are promoting it heavily.   We have not been and hope that it really is something special for the town of Zihuatanejo but the way it is being portrayed we have a feeling it was started by cruisers to get their guitar playing buddies to come down to Z-what on a free trip.    Most of the Fests: Z-Fest Lorreto Fest, Sailfest in Puerto Vallarta and the Festival that is held in La Paz each year all raise money for some local charity.   Guitar Fest raises money for the people who fly down from the States and Canada and perhaps a couple of locals to pay for their expenses.   We must have lost something in the translation as we can't imagine who would support such a thing, but perhaps the guitarist are really good, heck they should be, tickets for the individual shows are up to $200 pesos ($US 18) and the venues are bars and restaurants.   We can hardly afford a dinner for $200 pesos each, let alone a no-name guitarist.  Who knows, perhaps Jimmy Page, Chet Atkins or Estaban will show up.   Unless somebody promotes a day of Festivus, we are all fested out.  Hope the tanks show up soon.