"It doesn't matter if it costs another $20,000, I am in".    Lisa was trying to persuade Bill again that the purchase of a new home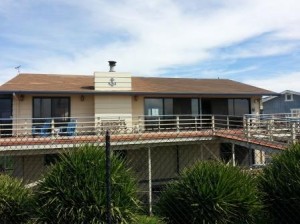 was the right decision.   We have been looking for homes since we landed in Alameda almost 6 months ago.  The process would actually be easy if we just put the square peg into the right hole, but that just isn't the style that we are guided by.
In Lisa and Bills utopia their next home will be their last.  It will have lots of space on the inside.  This is quite a big diversion from what they have owned over the last 30 years.  Bills first home purchase was a condo with just a tad less room than what we currently enjoy on board Beyond Reason.  The new property must also have a great view and plenty of outside space that will never be encroached on.  This is a big one in our books.  Enjoying the Baja like we do, we felt we just would never be happy with anything that had neighbors close enough that when they changed their curtain colors our daily mood was affected.  So land, view and most of all the option of sitting outside and enjoying a bit of nature that could not be built on or improved by somebody else was really important.
Our list of wants is not very particular after that. The home we are looking for does not need to be in fine condition.  Nearly half of the homes we have looked at have needed serious repairs. Some required over $60,000 in foundation leveling or worse.   It is all about space and hopefully wide open space beyond our borders. Beyond reason, we think not.  Enter La Casa Mas Alla de la Razon! What we hope will be our final home.
The place is on a full third of an acre, in California, water front with an electric gate, extra bedrooms, a ukulele studio for Bills new Conto Ukulele and an unobstructed view of wetlands that stretch perhaps 25 or thirty miles.  The afternoon view is of the water and the sunset.   The back deck is nearly 60 feet long and spans two levels and there is room for our boat and two others of similar size or larger on the private dock.  For once in our lives we might just have room for guests. We certainly have enough room for their laundry as that room is just about the size of the entire interior volume of the boat.  Lisa gets excited just thinking about reaching into a refrigerator without having to go "tail up" for ice during cocktail hour.
We have done all the required inspections are just waiting for the final appraisal to come in.  It has not been an easy journey getting to this point in the purchase process.  For months we have looked at homes on the Napa River, the Northern California coast and every conceivable watershed within 2 hours of Bills work.   Our budget is small so purchasing something that Larry Ellison previously owned was out.
To add to the adventure we have been dealing with the installation of a new damper plate for the boat.  It turns out that not only are all the bay area mechanics pre-Madonna's and can't stand to have their work processes and prices questioned, but getting new parts in the land of plenty can also be a task as difficult as finding good gin in Mexico.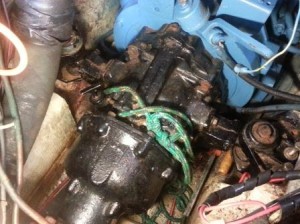 We probably should start by qualifying my rip on the mechanics in the area.   Perhaps not all the mechanics are not as bad as I stated but two in particular are.  Jason of Proline Services and Marty of Bay Marine Diesel.   We contacted both of these companies to help us with the transmission troubles we developed back in February.  After a couple of calls to Jason/Proline and a hopeful follow-up to proceed with work he suddenly fell off the radar and would not return calls.   Marty of Bay Marine Diesel seemed nice at first and we were ready to hire him based on our interview but when we called him the following morning he claimed he wouldn't do the work because we said we were hiring another company.  We tried to explain that his statement was not true at all but Marty just didn't have the time to listen.   After that we decided to just do the work ourselves and save about $1800 in the process.
We finished the install of the
new damper plate two weeks ago.   Prior to buttoning up the entire project and heading out on an overnight cruise we thought it might be best to take some video of the new damper as it just didn't feel quite right.  Being a new fancy design we were not sure how much play should be allowed on the damper plate so we sent the video to our friends at Blue Ridge Marine who had sold us the plate in the first place.  Bill called Keith at Blue Ridge just to be sure he would take and look and Keith assured us he would let us know if anything was wrong.  In his opinion there is a lot more play in the new plates than in the old spring set plates from 1980.    After a week we thought they had forgotten us or that everything must be OK.     Just after completing the transmission install and locating the final four bolts for the driveshaft we were sent a mail from Blue Ridge…Stop.
For some odd reason Keith, the owner of Blue Ridge Marine had been trying to get a hold of us for the last 7 days.   The damper plate had way too much play according to the video and he was sending a new one back down to us.   As of this posting we are still waiting on the part and we are beginning our second month of having a boat that can't move on its own diesel power.  We hope to have the parts soon as it is going to be tough maneuvering the boat up the delta without the auxiliary assistance.
Back to La Casa Mas Alla de La Razon:  If we told you we stole the house we might be over stating the facts.  We did get an exceptional deal.  We also got a long laundry list of "fixes" that could take us into the next decade to complete.  On the plus side we have a great view (we think we said that already), and the electric gate works nicely as well as the alarm system.   We are not sure that we mentioned how nice the view was.  Anyway that's about it.   The fixes include, deck, paint, roof, siding, kitchen counters, and a few electrical and plumbing issues.  Nothing a couple of handy-folks can't handle.  When we compare the list of "fixes" on the new home to the lists of "fixes" we have seen over the last 6 months of house hunting, this home is in great shape.   We figure a couple of weeks will get the most pressing issues sewn up, but the deck will take a bit more work.  Bill is looking forward to the deck, but Lisa insists that the roof and paint are the priorities, right after she picks out the new interior colors.
For the grandchildren and our boy Sparks we could not have picked a more perfect home.  Surely there will be some tough times but like the purchase of Beyond Reason, it will be a labor of love.
We haven't written in quite a while so we will post this update as-is for now.  Kind of like the way we purchased La Casa Mas Alla De la Razon, as-is.  Hopefully the closing goes well next week.