Some call me Thaddious
12 December, 2014
You can call me Ted.  My full name is actually Terrorific Theodore Beyond Reason.  I am the King of the Terrier's; an Airedale.  If you think my name is long, just be happy you don't have to call my mom, Stirling Joie De Vie and my dad, Terrorific The King's Legend, and myself all to dinner all at the same time.
I was born on 21, July, 2014 in the small farming town of Acampo, California.   You might wonder what I am doing on these pages, well, let me tell you.
I met Lisa and Bill on the 14th of September, 2014.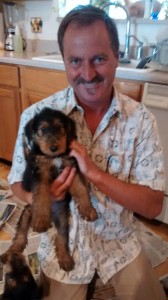 They had been looking for someone to help fill a void in their lives.  Someone that was capable of chasing intruders off yet someone who could also win over the hearts of children.   The candidate needed to be rough around the edges yet a little bit squishy once you got to know them.   Love of water was a plus but not required.  Squirrel and Skunk intimidation was also high on their list of wants but most of all any non-terrier breeds need not apply.
After a brief visit in Acampo it was decided that I should come to live with them.
So here I am several months later still trying to fit into the job.  La Casa Mas Alla Razon, keeps me busy.  It always seems to have so many things that need to be tended to.  Why just the other day, Bill was working on the Christmas Lights.  I could see he needed help since the lights were all strung out in long lines.  There was no way he would be able to carry that unwieldy mess up to the roof.  Bill was taking a break by then, so I pitched right in and helped to make them into a much more compact ball than how they had started. When I was finished he had no trouble scooping them up and hauling them to the roof peak.   He was so happy with my work he was almost singing at the top of his lungs.  Even when he was way up on the roof I could still hear him saying something about a good darn dog.  I beamed with pride.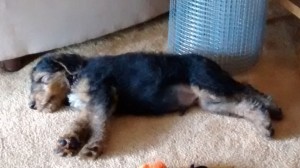 I try to keep up my end of the bargain.  Sometimes I get things a bit twisted but I think it is working out well.   As I said Bill is usually singing just about every time I am around and Lisa seems to be much more into keeping the house clean than I think she was when I wasn't here.   Heck, I was just in the house writing this up and she insisted that I leave so she could clean the carpets for the third time this morning.   She sure likes clean carpet!
Well I am going to close for now.  I don't have quite the typing skills that my older brother Sparky had but I will try to check in with pictures every now and then.
Terrorific Theodore Beyond Reason….Ted.