Passing the Keyboard
On the 7th of July 2014, Sparky passed. He had been nursing a bad hip for a long time and in June had begun to have trouble holding his bladder amongst other troubles.   We held on to him as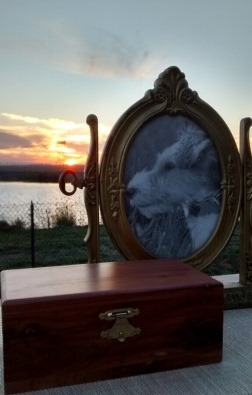 long as possible wanting to be sure his life was always filled with happiness.   Sparky tried to remain strong even though we knew that his aches had bothered him for some time. At night and often during the day we could hear him wince as he tried to get up and then finally he would cry until he got help. The hardest part about letting him go was the fact that once on his feet he would get so excited he virtually prance about or galloped around the house like a pony until he got tired and then would tumble over. At that point we would right him and he would drag himself over to whatever spot looked soft and would lie down again. Many who know Sparky understand that sleeping really was not his strong point and if he could he would have preferred to be wandering about the yard, smelling lavender or waiting for a ride to the beach.
Death is a terrible thing. We all know of the circle of life. Throughout our education we are told that it is natural and should not be feared but watching a loved one grow older, become feeble and then finally begin to give up because all that they have ever lived for slowly becomes out of reach is awful.   A writer named Dave Eggers wrote a short story named, "After I was thrown in the river and before I drown". Bill said he thought about this story often over the last year of Sparky's deteriorating health. When Sparky died he thought about it again and it continues to come up often. The hero in the story is the dog Steven. He tells tales of running. Running just for fun and nothing else except for a couple of quick sarcastic squirrel references. In the end Steven is running and jumping and slips into a fast moving stream and is unable to escape. After a page or two of quick turning dialog, Steven passes.   When Bill first read the story it brought tears to his eyes and all he could think of was the poor dog and how he miscalculated a jump and paid heavily for it. Today we both think that Steven was lucky. Our guess is Sparky would have been happy to have taken that road out as well had he known what was in store for him for 2014.
You can always second guess death. One of our close relatives seemed to be on the verge of death earlier this year and we thought the reaper was standing just outside the hospital door. They were moved to a home because there was nothing left for the doctors to do and then several days later (after nearly a month of hospital care) they re-surfaced and are doing well again. You just never know and ultimately that is what makes making a choice to put a friend down so distressful.  
Our home is lonely now. The muffled barks of Sparky yelling to the cows or reminding the possums and skunks to stay off our property have stopped. The careful listening throughout the days for his whimpers when he needed to go and we knew he would not be able to wait long has silenced. The cheerful prater of little feet thumping on the carpet after a bath and then sliding on the wood floors are no longer there. A caring friend that asked for no more than a kind word or a little leash time every day but repaid you by standing watch through the coldest nights alongside you has passed.
We miss him every day.
Old Dogs and pickup trucks
Like always it has been a while since I have written.  The problem is not the want, but more the how and when.   My favorite computer lost its keyboard several months ago, and then my legs and arms started to give out as well.   To complicate the matter my second eye is starting to lose sight and since I never did figure out how to type by touch (hey a dog that hunts and pecks is still pretty rare), I was really at a disadvantage.  Ah the joys of getting older.  Things are really starting to give out on the old body but I am not complaining; much.
Mom and dad are doing their best to accommodate my troubles.  They haven't made me sleep outside for almost 2 months unless I really ask to be there and in the cold evening air around San Diego and coming up the coast that is really a good thing.  Fairly often my humans will even get up late at night and put me on the couch along with wrapping me in fresh, clean blankets so I not only feel warm but sometimes I wake up smelling like fresh flowers or dryer sheets which is kind of nice as long as the neighbors country hound is not around to poke fun.  I really only mention the clean blankets because I was staying at my cousins house just the other week and she hadn't had a clean blanket in weeks, I do love my humans.
My leg is the only major problem.  It seems that something big had to give out when I turned 13 and a half (that's 94 in human years) and since it was not the heart I imagine I will get by.   The issue is that my right hind leg drags a bit.  Actually it drags a lot and Bill has taken to calling my Quasimodo at times.   I don't limp, just kind of scuff along leaving a trail of 3 footprints and 1 claw mark.   The real trouble with the lame appendage is that if I am chasing rocks or sticks and make a hard left turn, my outer leg (the right one) gives out and I tumble across the beach.  Bill, of course finds that funny as well.  If he didn't have such a good throwing arm I would trade him in, punk.
My other ailments are more cosmetic.  I don't know if there is any truth to my theory but within the last month I have developed about 50 small skin tags or warts.   You can't see them when I have my coat on which is every day, but you can feel them.   Lisa and I discussed them and figured they are from all the No-see-um bites that I must have gotten in Mexico.   Perhaps skin zits are more like the problem.  Anyway, Dad picks them off sometimes and then they are gone.  If he ever gets a job I am sure they will take me to the vet and we will determine the actual cause, but till then I will just deal with them, they don't hurt or scratch so I wear them like medals.  How many of you other pups out there can boast spending years on the beaches of Mexico?
I think that about covers it for old man talk today.   Sorry it is all about ailments.  I don't go on long walks anymore and the beaches in San Diego harbor are few so adventures have been slow.   I think we are going to move up to San Francisco soon and I am looking forward to seeing some of my old friends there.  Take care and if you see me on the street come on over and say Hi, old men need a little love every now and then.
The Sparky theory of Dog-dum!
Over indulgence does seem to be an issue when you are out here on the boat.  Actually, it is not the boat that creates the over indulgence but the beach.   I have written so much about how dogs and beaches go together like lime green pants go with golfing.  It is just a match that was made in heaven.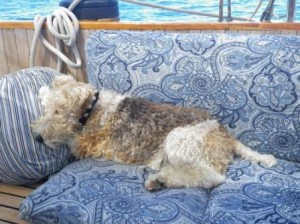 I know everyone believes that those wild dogs on the Serengeti are the forefathers of all dogs, but really I don't believe they evolved from some prairie rat a zillion years ago.  Most likely, if one of the Leakey's would do a bit of research, I am sure they would find that dogs evolved from seals or sea otters and until some lonely spear tossing Neanderthal chased a woolly mammoth through the brush and to the shores of the sea, all dogs were happily living what has become my perfect life, on the beach.   Alas, Oog probably saw one of my ancestors and soon realized that even though he had trapped the mammoth, he just didn't have enough Bud Light to sustain him in carrying back 1,000 kilo's of mammoth steak in 100 degree weather.
Oog being student of W. Edwards Deming and a Six Sigma Black belt more than likely solved his dilemma by drawing out a fish bone/Ishikawa diagram on the beach.  He would have decided that Mrs. Oog was making up a nice wild onion soup anyway and would just as soon appreciate a pup around the house as she would another wool blanket and a lot of red meat that would interfere with her South Beach diet.  Following his decision he probably dragged a cute pup back to the hills and prairies of Africa and the rest is history.
Redemption of course came when Noah took a couple of my grand parents and packed them into the ark.   Ararat is a long way from the sea, but I am sure many of my brothers eventually followed the waves down to the sea as the waters receded.   The result was that dogs were returned to their natural environment.
With our return to the Baja I feel that I have completed the circle of my family's history.    Beaches are everywhere and three walks a day are not out of the question.   With all the walks I find that I am sleeping or napping up to 20 hours a day.   I am happy and comfortable but just put out so much energy in 4 hours of walking the beach that I just can't stay awake.   Bill will sometimes question my health as I often sleep through cocktail hour which is usually a good venue for finding chips, salsa or guacamole.   What he doesn't know is that I do have an extra sense that lets me know that I can sleep though the warm and sometimes hot cocktail hours but I only do that when I know that popcorn is on the menu for the cooler evening hours.
I have never missed popcorn, ever.
WWF has it's day of revenge on an aging dog.  19, March 2013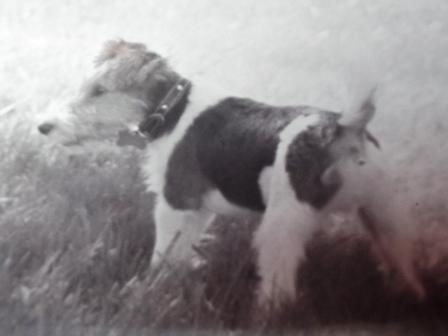 Another night and I am barking at what appears to be pirates approaching the boat.   Mom and dad are yelling at me like I am the autistic child that is unaware of what is going on.   In actuality I am going on 13 years or in people years I am closing in on 91 years old.   I am not autistic and they both know it.  What I am is virtually blind in my right eye (yes no depth perception as we know it now), have almost no hearing left in either ear, am super susceptible to ticks and fleas that infest the beaches of the Mexico mainland and have a tumor that makes it look like a Texas Long Horn bull is coming out of my bottom.   I am old, but golly gee I am dealing with what God has dealt me and I believe I am doing a pretty good job of it.
As I have said so many times before I apologize for not writing earlier.   I could blame it on not having an opposable thumb but really I am just trying to live life to the fullest.  At 13 years old or 91 in human years;  I am upbeat, enjoy running on the beach, thrill at the smell of females on tall bushes, and I still love barking at real or perceived bandits that come anywhere in the vicinity of  Beyond Reason.   My one issue that gets me down is my hips.   I don't have hip displacement like you see on so many German Sheppard's but my hips are just getting weak.   It is a fairly common occurrence for me to try to stand up on my back legs just to see what is in the popcorn bowl at night.   If I take just a quick glance and realize there is nothing left in the bowl, I am good.  If on the other hand there is popcorn or some other food in the bowl I will often times end of falling onto my rump when my hips give out.   Bill laughs at me, Lisa is more caring and generally sooths me with a cooing noise. I usually try to just ignore that the dang things aren't working like they use to.
The good thing about being me and living on a boat hear in Mexico is that with the long days and the conspicuous absence of pirates, bandito's, scallywags, rats, cats and even possums, I have plenty of time to nap and dream of doing all the things I used to be able to do.
So today is my birthday.   I was officially born on the 19th of April in the year 2000.   My mom, who put me up for adoption just weeks after I was born, was the Champion Fox Terrier, Wyrequest No Doubt, and my pop was the Champion Fox Terrier Wyrequest Zip Code, I was born Grand Illusion's Sparky and was never part of the pageantry that provides the Champion Moniker to the front of my name.  My home birthplace was WashingtonState, but I am sure glad my adopted parents brought me back to sunny California and then warm Mexico because it sure feels good to lie around in the sun.
Lisa has promised me a meatloaf cupcake for my birthday dinner so I am looking forward to the sun going down today.   Oh, and Holy Crap I almost forgot to tell you.  My favorite beach or at least the one I usually walk on and do my doggie business has been taken over by none other than Stone Cold, Steve Austin.  That's right the professional WWF wrestler is here spending his days on my beach while filming his reality program, Red Neck Island.   I am still able to use the beach on most days, but look for my boat and if you see somebody checking their sandals during the show, just think, I know that dog!
Not much more going on just now but I have big plans for the summer.   Have a happy day.
Male Bonding.  22 March 2013
My Mom and Dad have been on me for months to write.   For the most part I have been able to come up with excuses for not writing and thus have been able to spend my afternoons lazy about in Lisa's Pookey Palace, which really is just a sun shade on the front deck with some fairly comfortable Tommy Bahama beach chairs set up for me to lounge on.   Well at least that is the way I see.  Come 6 pm I am always asked to get up and provide room for the two boarders that live with me.   Something about the sunset and cool drinks with those two.   Anyway it is usually for only and hour and then I am able to return to my spot and wait for the popcorn and nightly movie to start.
Like so many people I usually fall fast asleep when the popcorn is finished and then I am left undisturbed for the better part of nine glorious hours.   Anyway, mom is off the boat now and I don't know what it is about fathers but unfortunately mine is like that rest and can't wait to put there kids to work at the first chance they can.
The last couple of months have been sweet.   We have gone from one nice beach to the next.   Somehow Bill always finds me a private beach even when we are in populated areas.   In Zihuatanejo he was able to find a nice, although very small beach that sometimes completely disappeared when the tide was up.   It was private and the nice thing about the tide was that it cleaned the beach every day so I didn't have to step on dead fish or trash even though it was a big city.
The most fun was in the place Lisa likes to call Las Has-Been, or for you that want to look it up Las Hadas.   It is near Manzanillo but Dad use to have to bring me through the surf twice a day.   There were times I was sure we were going to flip the dinghy, but apparently the old man has a couple of tricks up his sleeve that he hasn't shown me, so we mostly stayed dry.   Again this beach was great as the waves would wash up the shore 20 or 30 feet when a wave drove in.   This lead to some impromptu swimming for me, but you know that just means I got to dry off on Lisa's nice cushions that she always forgets about when I come home…or as Maxwell the pig on the Geico ads say's….wheeeee.
So lots of sun, beach and rest for me.   I am just about to hit my 14th birthday (April 15) and am looking forward to another 14.   Take care as always.
No Perro in El Taxi!  21 January, 2013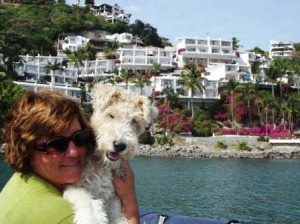 "Deez guys, they thinks their Taxi's are made of cashmere", or so I would have said if I hadn't been so tongue tied.   Bill and Lisa had taken me to a fancy resort style anchorage.   I was thinking it would be real nice to have lot's of long beaches to run on, a nice chaise lounge to lay down on after the run and perhaps a bit of shade and a tonic to cool off with as the sun plunged into the sea again, but that was not to happen….again.   Las Hadas has a bit of a reputation, albeit from 1970 or 1980 when Bo Dereck ran topless down the beach, but that has passed this hotel up and yet they still hold on to the mystic that if they charge the high prices people will still come to fulfill their fantasies.
Of course Mom and Dad are a bit resistant to these types of places but there was something in the air and so here we were, anchored where the rich and famous once played.   On my second walk on the beach, security called mom aside and told her she could either leave, or pay $200 pesos to park the dinghy on their dock.   Looking forward to a massage and that tonic, I enthusiastically bounced around with my tail at full attention.  Not 30 seconds later we are marching towards the dink and off we go, back to the boat.   Apparently there are rich people on some boats, we don't qualify and mom ain't paying $200 peso's to park for one day at Las Has-been Hotel.   Heck she say's she finds it hard to park her Volvo at Fisherman's Wharf in San Francisco for the same price.
Some time during my evening walk on a more secluded beach, someone noticed that I might have had a problem with my stomach yet again.   I have written about the evils of City life and we haven't seen a secluded beach in a month or more, so today we are off to see the Veterinarian, again.
We motored over to the Las Has-been marina apparently prepared to pay the $200 pesos for parking (I guess they really do love me, my mom and dad).   For whatever reason there was nobody around to collect money so we strolled up the walkway looking for a taxi.   Bill noticed the security guard Miguel and told him that we would pay on the return trip if the marina manager could be found and we continued to the taxi stand.   Four taxi's were all lined up and ready to go so we hailed the first one and what do you know he declined us, BECAUSE OF ME!.   In our years visiting Mexico we have never been denied entrance into a Bus, Taxi, Supermarket or all but two restaurants.  These guys were without pity.   Lisa explained that I needed a veterinarian and was quite sick (I am not, but I put my tail down to show a little less enthusiasm than the day before).   The Taxi driver and his comrade taxi driver behind him both declined me.
Miguel our security friend from before saw us and advised that perhaps the bus would take us so we strolled up to the bus stop and once again were denied.   I don't know if it is the Hotel, the number of tourists or what, but Manzanillo was fast becoming my most disliked city in Mexico.    Bill decided to go into town alone and explain my "complication" when another taxi came by, from a different taxi company.   The driver was more than happy to take us for the ride into town, so I now blame the issue on the Las Has-been hotel.
Our trip took two separate taxis's to find a vet.   Unfortunately the first taxi has some type of issue with lack of oil in the engine and a need for some pliers or at least that is how dad translated the trouble, but the second taxi made a quick trip of it and $15 US dollars later I am on my way to recovery again, "Viva El Mexicana Vetrinario's".
We had a fine trip back with no more racism displayed against people of my skin color so all is well in Manzanillo.   Will write again when I can wrestle the computer from one of the parents.
Paying the Price, January 9, 2013
There are days when it just doesn't pay to get up.   At 13 years old (that's 91 in dog years) you are always happy to just open your eyes, but going for a walk or just walking around the boat often leads to inconvenient missteps that Bill and Lisa often laugh at.   I know they don't mean it in a mean way but heck, the old bones don't always follow the commands of the old brain and so I might trip over the cockpit combing and fall into the gunnels, or dig a hole on a beach and later run into it since I don't have much depth perception any more.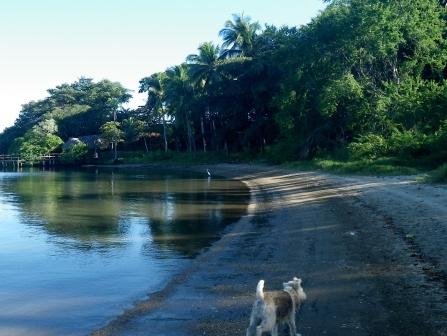 All this leads to some sort of comedic value for the people in my life.  On the good side they are both getting older and their reflexive actions with cameras is much slower than they use to be so very little of this is ever caught on camera, i.e. I didn't do it.
The other day we were strolling the beach.   Bill was throwing rocks and I was trying to find them and bring them back.   This is a typical game we play.   Most times Bill just throws them in the water close to shore and I get an opportunity to cool down while pretending to find the rock underwater.   A pair of scuba lungs for Christmas would have been nice but I guess there is not much room on the boat to store them.
Every now and then I do find a rock that Bill has thrown and I bring it back so he can re-toss it again.    I don't know why he doesn't tire of the game, but since he seems to like it, I continue to indulge him by retrieving them.   There are times when the rock thrown is so close to shore that I am able to dig around it and get it to fall into a hole that is closer to the shore.   If I do this several times that rock eventually is on dry land and I am able to bring that rock back to Bill.  I estimate there are very few dogs around that would put that type of persistence and loyalty into recovering their best friend's property, but you can mark me down at loyal and persistent.
Earlier I was talking about getting older.   On this one occasion I was recovering a rock from shallow water.   Bill seemed to be in a bit of hurry to get back to the boat so I put a lot of extra effort into getting the last rock.   It was fairly close to shore so I began scooping large paw-fulls of sand and throwing them behind me.   I must have got a little over zealous, either that or I am losing weight in my behind because on my last scoop I pulled myself into the hole I was digging.  Yep, that's right, I pulled so hard that my bottom flew up over my head, and my old arms couldn't hold the weight and I collapsed into the mud and water filled hole I had dug.
If you have ever seen humans laugh, just double that and you would have a picture of Bill when I came up with mud all over my face.   He did say he was sorry for laughing but continued just the same.   I on the other hand was so embarrassed by my lack of muscle control (even if it was some sort of super dog strength that did it) that I slunk back to the boat and stood there until Bill could lift me over the gunnels like the invalid old dog that I am.
When we got home Bill washed the mud from my face, and then apologized again before filling my food bowl with fresh kibble and a bit of Tuna oil, yum.   I love my best friend still.
A dogs Place, November 4, 2012
It has been a long time since I have written, but then again it has been a long time since I have done dishes or combed my own hair so let's keep it in perspective. I was strolling along the beaches of Isla Coronado today and although this island almost killed me several months ago, I have come to the conclusion that a dogs place is on the beach. I too have seen the pictures and movies of dogs running in tall grasses out on some god forbidden piece of pasture land, or running through trees and thickets to capture some bird or animal that his best man has just shot, but really, ticks, fleas and bramble stickers? Not for me. The beach is the place.
Ticks and flea's are the worst. Thank God I have only had a handful of ticks and few if any flea's in my life. Only when I am cruising around cities or pastoral lands have I encountered these vermin, never while on salty land. I could continue to dwell on my disdain for insects but really the best part of beach life is the smells. Yes I too am attracted to the sensuous aroma of decay, something that apparently has not grown on my human companions, but withstanding that the smell that comes off the Mexican desert in late summer is just amazing.
The wild grasses have all started to bloom along with the cactus and if you just sit still on the beach for a while you can pick up the scent. If you have A.D.D. and can't sit still you can still smell the ice plants and succulents as they bloom near the waters edge. Given the major smells and the need for Ridlin or some other attention booster, if you lift your nose and let your mind wander you inhale whiffs of stone and moss and the occasional Coyote while butterfly's hover around your head. Speaking of butterfly's, one of my favorite pass times while Bill or Lisa are off wandering the beach is to just sit and listen. Today you can hear the splash of Manta Rays doing flips out on the ocean. Actually what you hear is the splash as they leave the ocean, beginning their jump, and the slap as they land in a belly flop or back flop at the end of the jump. There are bees and beetles that are flying overhead, but not so close as to bother you, just close enough so if you close your eyes you can hear the abundance of nature's life around you. In the early morning you can hear the breathes of dolphins as they surface and then dive down again to feed, while Sea Gulls, Boobies and Frigate birds call out to one another.
Yes, the beach is the place for dogs. I have not touched on the freedom to roam, run, swim and discover, but these are all the normal activities that one knows about. For me,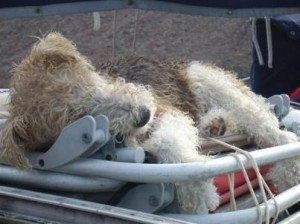 even the lurking fear of drowning could not keep me from where I belong, where all dogs belong, white sandy beaches in the warm summer sun.
That was a tough day:  June 24, 2012
Terriers have the hearts of bulls as most people know, but keep in mind that bulls will sometimes attack a red blanket with a sword inside so it doesn't necessarily make us uber-smart.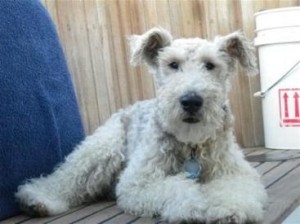 Sunday June 24th started off very well. Mom and dad were enjoying their day and the walks were coming at regular intervals. Dad had just returned from an unsuccessful diving trip but was met by mom with four beers and an offer to go to the beach. We all jumped in the dinghy and roared off for some play time. We landed and strolled the ultra white and sugary beaches off Isla Coronado, wading in the liquid warmth of the sun baked water. Sticks were being tossed and I swam out to save them from untimely and lonely deaths drifting about the Sea of Cortez. Dad found a big stick and tossed it fairly far out, but still within normal swimming distance. What I think he was trying to do was give him and mom a chance to walk the beach without interruption, if you know what I mean.
Anyway, I am still a little bit groggy about what happened next, but I will try to tell you. As I was retrieving the stick/log/tree, I swallowed a little water, this happens sometimes, but I was determined to save this chunk of wood so I drove on to the shore. Mind you the water was calm but the weight of the limb was a bit much so I continued to swallow more and more water, at some time I nearly passed out and dropped the stick just in time to literally drag myself up on the beach. I had lost control of my rear legs and was violently sick. Dad rushed to help my get the final few inches back onto the beach, then did some sort of hymlic maneuver on me that help to get all the foreign fluid out of my lungs, I could hardly breath. Mom joined in and after about 5 minutes rushed me to the big boat so I could try and recover.
What happened next was the most terrifying 24 hours of my life. Dad zoomed around the anchorage trying to find a doctor while mom comforted me and helped me keep calm. When dad returned with bad news (no doctors) him and mom decided to email the folks back home to see if they could contact a vet for information on how to help me recover. Once those emails were sent, dad got on the Ham radio and called the Mobile Maritime Ham Net in New Jersey. They monitor the radio at 14.300 Mhz 24 hours a day, and within minutes he was able to get ahold of Perry KG6YC in Texas who just tuned in and was able to contact a vet. Minutes later another ham radio enthusiast contacted us with more information. All I can say is thank God for Ham radio. Although there was not much more to do than was already being done, it was comforting to know people care about pets and are willing to wake up doctors worldwide to help a poor dog, even on a Sunday evening.
I had an awful sleep on Sunday night, but finally I was able to breath fairly normally on Monday morning and after my morning and afternoon walks, I was back to barking at every little ripple in the water. Perhaps that old bull heart really is worth something. No more big sticks for me though, I know what is under the blanket.
You've got to be kidding: June 9, 2012
It is stuff like this that makes me wonder if all dogs speak english or it is just english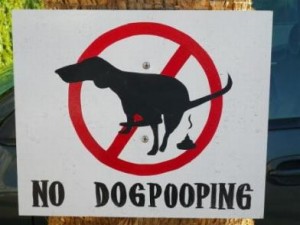 speaking dogs that should not poop on this guys porch. Go figure.  Of course I always carry a baggie around.   I don't know what my mom and dad do with them when they are used, but at least I don't find them under my pillow for the Poop Fairy or something like that.
Working with the locals, May 25, 2012
So I am in LaPaz now. No beaches, no water to swim in, and the walks are a lot shorter, I've had better times. As a matter of fact I have had a lot better times. In the last two days I have taken a couple of hard knocks. First, yesterday, I fell down the stairs or rather threw myself down the stairs because of the heat outside.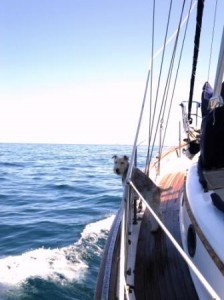 Lisa and Bill were out enjoying tacos and as they say, I was on "Pirate watch".  During the time they were gone it got a bit on the "roasty" side so I figured down stairs was a better place to hang out. I have gone down the six foot staircase a couple of times while I was younger, but really it is a "tail or head" event most times because the incline is so steep. Many times I am able to catch myself and still land with some dignity, other times not so much. I am not going to tell you which it was this time, but suffice it to say when Bill and Lisa returned I was down stairs and not very eager to go for a long walk.
On the pages of this website you will hear tales of the Gringo Traps that La Paz is so famous for. Usually these come in the form of man holes with no covers, broken sidewalks with elevated sections that catch people who are not aware of where their feet are falling or just stray chunks of cement that shouldn't be where they are. Today I was going for my morning walk and really having a fine time. I read the daily "P"mail, checked in on some new trees and harassed the yard dogs down at Bandido's Grill which really gives me a kick. Those hounds, they get so riled up when I walk by. The three of them will yell and scream while I walk as close to the fence as possible. They will continue to call me names as I walk by and then when I finally reach the end of their cage they will turn on each other and start to scrap about. My tail is never higher than when those knuckleheads start arguing amongst themselves…hee hee.
So, as I was saying, I'm on my morning walk when all of a sudden one of them Gringo traps catches hold of my hind foot. I didn't tumble, and am pretty sure nobody saw me, but jeez, I wish La Paz public works department would put a little more effort into covering up those holes in the sidewalk.
That's it for now,
Sparks.
Viva Puerto Escondido, April 29, 2012
I was reading the Chicks Version and the Dudes View the other day and could not believe what babies my two shipmates are.   Puerto Escondido has everything I could ever want.   The boat is stable all the time, I walk on nice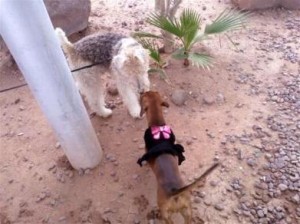 concrete sidewalks one or two times a day, and even the dinghy rides are reasonably long enough to fulfill that "wind in the hair" feeling that I love so much.
All the talk about parts is rather boring as I don't see the big deal about engines, it is not like fixing them is going to put more gravy in my bowl.
One of the key things here in Escondido are the amount of  single women, oh boy, cute just doesn't say enough.   I am putting a picture of Fredda up here, check out her outfit, classy huh.   To add to the fun she and most of the other ladies are really nice and actually have been chatting me up instead of the other way around.   Thank God for UPS is all I can say, I hope Bill and Lisa need more parts.
It's a dogs life:  April 12, 2012
I was reminded the other day that I have not written in a little more than a month, things happen in a dogs life sometimes that really need to be experienced instead of written down.
To answer the personal questions I am feeling much better now that the beach is a nearly everyday occurrence.  My fur is whiter, my spring is springier, and sleeping through the night is no longer an issue.
I don't like tooting my own horn but really I do have a virtual harem of girls any more.   The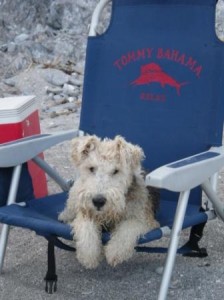 other day it was me and 4 other girl dogs on the beach, I feel like a I am living a Beach Boys songs (Two girls for every guys!).
We have had one bad day since we left San Carlos but I don't like to talk about those days when I have to stay on board for 36 hours or more.   Let's just say it was a lot of sailing and dad really enjoyed having me help out with the sailing.
Motezuma's Cats revenge:  March 6, 2012
It has been a bad week for dogs; me in particular.   News in the kennel is that they are poisoning dogs in the Gringo Ranchitos' outside of San Carlos.   I don't believe that this is ethical, and am sure that PETA would have something to say about it.   Personally there are so many ways for guys like me to get hurt and sick in Mexico I don't know why anyone would waste their time.  Regardless, it's a dangerous world, be careful.
I had been having a pretty good couple of weeks.   When the boat was launched  suddenly trips to the beach were a daily occurrence, then WAMMO I come down with a stomach infection that I am sure some cat in the marina left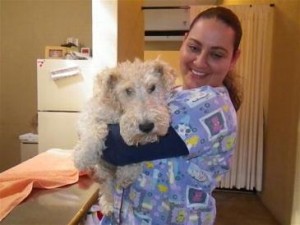 out for me to catch.   I have been miserable now for close to week.  Luckily Nurse Vanessa came to my rescue the other day.   She was not really gentle at first but I think that was just more the process than her bedside manner, but now you can see that she is an angel.
In the last three days she has brought me back from a very uncomfortable puppy to feeling pretty good.   Morning walks are a bit more enjoyable and I can sleep though the night with out getting up every couple of hours.
I am really looking forward to the next couple of weeks as things normalize around the boat.   Between me being sick and all the commotion in the boat with mechanics and Bill working on stuff I have a really hard time enjoying myself.
Hope to write more soon.
Sparks.
No trate esto en casa, Soy un profesional!: Feb 15, 2012
Hola, or perhaps I should say "Howola", it has been a long time since I have written. The trip from California back to Mexico is one of those things you can say you've done but I would not recommend doing twice if you can avoid it. 8 hours of travel per day of bumping up and down hills and through traffic while riding on the armrest of a 2 person truck piled with goods is certainly not fun.  Especially for 3 days.
Since then I have been in the boat yard for 7 days, and life consists of lying on furniture inside the boat, laying on the deck outside the boat or sitting on lawn chairs in the boat yard. Once or twice a day I go for a walk and a couple of days I have been able to run on the beach but mostly it is just watching the boats sit on stands.
I am really looking forward to Monday when we launch and then finally I might be able to get my daily beach fix.
Although it is not really exciting news I did get my first Medical passport yesterday at the Mexican veterinarian place. Nice to have some sort of existence, since the US and Mexican customs agents never checked me at the boarder. The worst part about the passport is that I had to have my Parvo and rabies shots updated, but other than making me a bit grumpy (like my dad) everything went just fine.
I am leaving you with a picture of the difficulties of dealing with "toilet facilities" in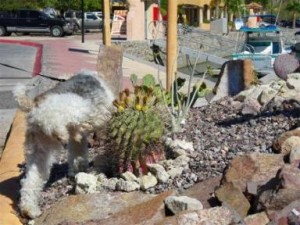 foreign countries can be. Keep in mind I have done this before and could be considered a trained professional, so don't try this at home.
Sparks