Spent the night last night at Punta Cabeza Negra, or Black Head Point, nice name, lousy anchorage.. Actually the small cove that we stopped in had some very nice homes but the vibe that was given off kept us from going on shore.
Arriving in time for cocktails we set the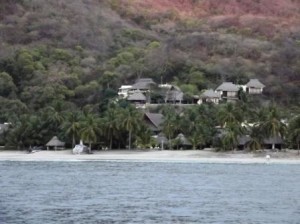 anchor and watched the sun go down. After dinner we were off to bed as tomorrow was going to be a long trip and we had hopes again of arriving before sunset. Sometime after we climbed into the bunks the boat began to roll sideways to the waves and that continued for about 5 hours or till just about the time we had to get up to leave.
We guess we picked up about 3 hours of sleep total so we are kind of running on empty today. All is well on board but needless to say Cabeza Negra is not on our re-visit list.