After the worst trio of meals we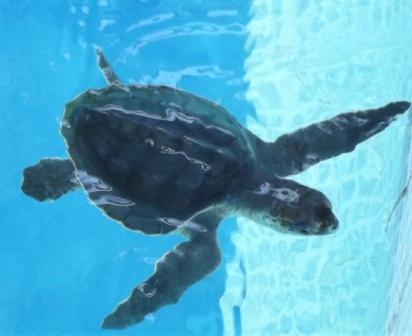 have had in Mexico we are finally underway. On Tuesday we took a trip to the Capital of the Mexican State of Colima, strangely named Colima. The trip itself was fantastic and we do have a lot of pictures to share. Unfortunately we are underway and just can't send the pictures through Ham email.
After picking up the rental car we headed out looking for breakfast. Lisa found the most popular place on the street with plenty of customers so we figured it was a good choice. If you like pork for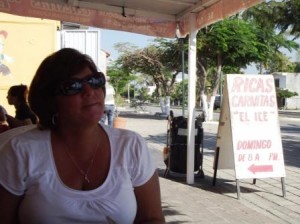 breakfast, not eggs and pork or even eggs and bacon, but just plain chopped pork on a tortilla, then Rica's on the malicon of Manzanillo is for you. We prefer a little more variation so not the worst breakfast ever but certainly the worst we have had (and it was our choice) in Mexico.
After visiting the Turtle Hatchery in Cuyutlan, we ventured another 50 miles to Colima. Colima is a colonial town meaning that the Spanish actually set it up and the architecture certainly shows. The downtown area was happening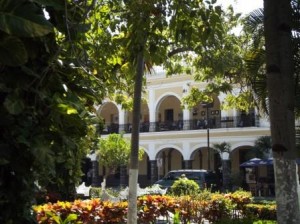 and very pretty. Bill even mentioned that he loved the downtown garden, so either he is getting real old or the place was stunning to him.
For lunch Bill had a hamburger. In his words it was one of the plainest, thinnest hamburgers he has had so chalk it up as the worst in Mexico. Lisa did much better with her Fluanta's which were "quite tasty" to her.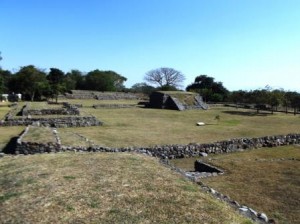 Next on our quick tour of the state was the Temple or pyramid of Chanel. Small pyramid but gorgeous grounds and really quite a site to see with all the prehistoric foundations of a very lively community. Funny in the States, there would have been gift shops and soda stands all about touting "Chanel" as the largest pyramid in the state, but here there was just a nice young man taking $2.00 a head to come and see a bit of history.
As we meandered back home we thought we should stop at Los Antonio's which was a restaurant we saw early in the day that served Paella. We are not experts with Paella but guess that the saffron rice should be fluffy, the lobster tasty and any other ingredients able to hold a taste similar to what nature intended. At $50 US for two plates and a couple of beers, we expected a heck of a lot more, or perhaps we got it. Absolutely the worst meal we have ever had without getting sick. If Los Antonio's is on the Michelin guide, skip it.
So off we go. Heading for Ixtapa and should arrive in a couple of days. We are hoping to day hop but due to swell we may have to go direct and through the night. So far the sailing is lovely. Enjoy your commute.