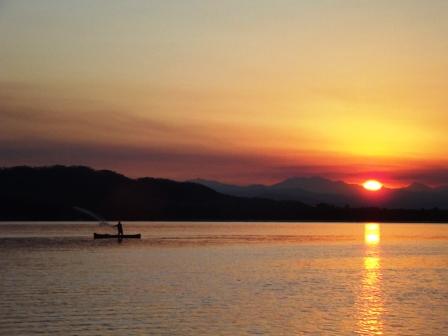 "Necesito un espiga" I said, then rephrased it to "Necesito un espiga Madera".   In Mexico it always helps to just keep adding more and more Spanish words to your sentences when you are trying to find something.   I find it is not really necessary to pronounce the words correctly as long as you can keep their attention focused on the fact that you are trying to say something by adding words.   At some point in time the locals will either get the idea of what you want, get tired of listening to you and decide to speak perfect English back to you or if you are really unlucky, ask a return question that you won't understand but you know you need to answer to keep up the facade that you understand Spanish so you are forced to answer "OK, Gracias" and tuck you tail between you legs and leave.
I hadn't gotten to the last option today.   As a matter of fact it had been a relatively nice day.   I started the morning early with the sun just short of rising.   I put on a fresh pot of "Intense" roast Mexican coffee, with caffeine, and then went outside to greet the morning and say hello to Sparky.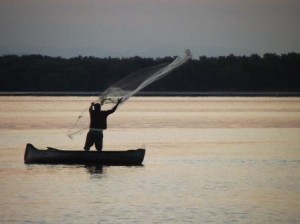 Sparky has been enjoying the cooler evenings outside lately and doesn't usually wake till the coffee is at least on.   He is not drinking coffee yet but he knows that "we will walk no beach till the coffee is brewed", so he sleeps.
I got domestic early and cleaned up the boat.  Really it was just the popcorn bowls (mine and Sparky's) from last night.  We changed out the water filters for the house water and then decided we needed to do a little shopping trip to replace the used filters and purchase a ¼ " dowel for a furniture project I had planned.
After the walk on the beach I gathered up all my stuff and dinked into town.   I checked a couple of the local stores but could not find either a replacement filters or dowels for my project.   The local hardware store told me to check the Maderaria (wood shop) in the next town and the local pool shop hinted that Malaque (the second town over) would have the replacement filters. Road trip!
The wood shop only took 5 minutes to arrive at.   Because of the location the bus driver was sure I was lost but stopped anyway.   After I told the wood smith what I needed "Necesito un espiga Madera" he got the idea so I took the next step and wrote out the size I needed in the sawdust on his saw.   I used my excellent Spanglish to drive home the point that only ¼" or 3/16" would do when he showed me a dowel of 1" thickness.   "No problema" was his response.
I expected him to walk over to a bin of dowels and pull the requested size but instead he grabbed a chunk of scrape wood from the table next door and asked how long.  I re-emphasized that I could not just use a piece of square stock it had to be round.   Unphased he asked again how long and then promptly cut off a meter of roughly ½" x ¾" rectangular wood.   I was almost sure the next step was to take the wood over to a lathe and mill it down but with wood that thin I was unsure how it was going to turn out.
I should not have worried since he immediately took it over to wood planer and cleaned up the rough cut wood before moving to his homemade table saw/dowel jigging machine (sorry if you don't know the terms) and cut the piece down to a clean ¼" x ¼" by 1 meter long piece of wood.   Still thinking I was going to end up with a square dowel I had to ask again to be sure he understood.  "Si, si" he answered then shows me a router that he planned to use to make the piece round.  Ingenious I thought, but then on the first pass he could not keep the wood square to the router and decided on yet a different idea.
The process has now taken about 5 minutes and I am thinking how much is my $2 dowel going to cost me with all this labor.   I kept my mouth shut and just asked the names of all the tools in Spanish as I tried to keep from helping him out.
His next step was a hand planer.   You know what they are, you just never see anyone use them anymore for anything other than door stops or when in really nice shape as conversation items in some guys ManCave.   Anyway, he pulled the planer out and checked the blade then proceeded to make my square stick round.   I would guess he put another 5 minutes or more worth of labor into the rounding process then 5 more to sand it smooth before he measured it and pronounced it complete.
I have not gotten home yet, but just by feel and looking down its length I would be surprised if the thickness varies by more than 1/64" over the entire length.   Total cost: 10 pesos, or about $0.80.
I am thrilled, so I march over to the Cervezaria and pick us both up a beer and celebrate before moving to Malaque to see about those water filters.
I caught the "Chicken bus" as we call it.   It is the local bus, no frills, 60 cents to ride as long or as short a distance as you like.  Often it is standing room only and on occasion a couple of chickens will be in pens on the seat beside you.   Thrilled to find a single seat unoccupied I plopped my stick and I down just before the bus erupted with clapping, singing, and the cajoling voices of 25 Mexicans chanting, "Tequila, Tequila, Tequila".   Somebody was having too much fun on Good Friday.
It's a short ride to Melaque, perhaps a mile or perhaps two, but the chicken bus stops everywhere.   My 25 new best friends must have been going to bus stop just after me since they carried on for the next 10 minutes singing and chanting old Mexican folk songs, children's songs and even a couple of songs that I was sure were not meant for children's ears.   My only complaint was that once again, being in a land of people who are blessed with incredible singing voices, I get the one bus with 25 tone deaf Mexicans.   They even chose to sing my favorite song, "Rancho Grande" but I could not join in since there second flaw was that they had less rhythm than this Jueto has.  I had to get off the bus at the next stop anyway.
Have a great weekend, no commuting till Monday!