Well it didn't take long for the mood around the boat to change last night.   We had just finished up our dinner and completed a movie when we thought we would take one last look at our Chart Plotter to see that it still worked.   According to my Technical Representative, we should turn the unit on and off quite a bit to confirm this anyway.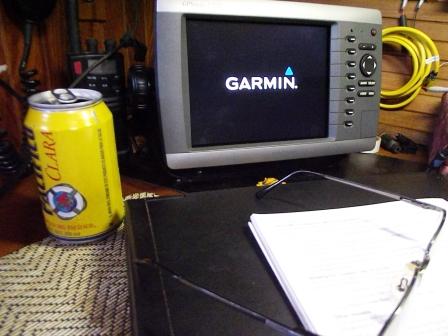 We pushed the buttons and instantly got the Garmin Splash screen as usual.  After about 30 second of just seeing the splash screen we began to get concerned and then 5 minutes later we began to write a letter to Garmin again regarding the issues with the GPSmap 4208.
Lisa has been looking at flights and bus fares to States since last night as we are not about to wait another month to try and get something through customs in the usual "expedited" way, so we will eventually go to Arizona to collect the part, or at least that is the current plan.
Bill has been on the internet doing research on Garmin issues.   It appears we are not the only ones with a Splash Screen issue as can be attested to by the number of comments on the web.   Sadly nothing has made our "Garmin" screen go away, so now at least we are not plagued by intermittent issues as for hours now all we have been able to bring up is "Garmin".
We will be moving back to Barra de Navidad either today or Monday.  There is not much we can do but sit and wait again since Garmin is not at home during the weekend.   Hopefully next will we will have a good unit working and be back to traveling.