We spent a couple of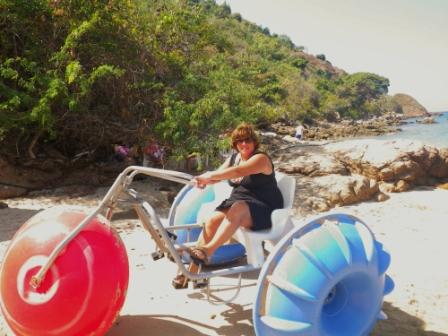 nights at Isla Grande or as they have tried to call it since 1970, Isla Ixtapa.   It seems like forever since we had had a nice anchorage with easy dinghy landings so we really enjoyed it along with about 2,000 other vacationers that came and went each day.   After the third day the anchorage got rolly and we have since moved to Zihuatanejo Bay which really is nice although there are still some lumps in the sea and it is another tourist destination.
The trip down from Caleta Campos went well.   We had a nice current that drove the boat
along at over 7 knots most of the way.   Passing Lazaro Cardenas was a highlight of the trip but not so much because of the beauty or wild life.   As you approach this Cargo harbor the first thing you notice are the low hanging clouds.   As you get closer you realize that the clouds are caused by the immense amount of dust in the air and the steam and smoke from the incinerators and power plants that make this city beat.    We were about 6 miles off shore and needed the radar to see ships in broad daylight that were 5 miles off!
Passing Lazaro you began to catch the smell of the petroleum and other chemicals that were either dissolved in the air or floating on the water.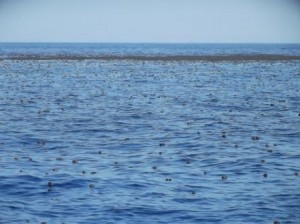 It was quite a contrast to see the beautiful "Tuna" Blue water (if you have been to Lake Tahoe you know the color) covered in a sheen of petroleum, dust and what we believe were actually coke balls or chunks of ash from the coal burning power plants that must have just been dumped in the water.   We are not chemists so we might be wrong but we will attach a picture just so you can see.
After Lazaro things began to clear up.   We were buzzed by the Mexican Navy who appeared to be calling in our little ships name but other than that let us go about our business.   Somewhere during the trip we also had a hook-up with two Cravalles fish or Toro's as the Mexicans call them.   We guess they each went about 25 lbs or so but we were only able to land one.  The second one got away with Lisa's hand made fishing lure which kind of got her pushed out a shape a bit.   When the fish steaks were put on the grill, Lisa forgot all about the lure and all was well again on board.
We visited Ixtapa proper the other day as well.  
Pat and Mo from the Bay of Conception asked us to meet with their friends that were visiting and so we had a look around.   Bill was a little surprised at the town as it was actually created in 1970 (hence the name of Isla Grande changing to Isla Ixtapa) by the Mexican Government and Fonatur to be a destination for tourists.  They have succeeded in creating a nice, overpriced, gringo village that is not to our tastes but certainly clean, safe, friendly and you are never 5 steps away from a bit of cheap Mexican kitsch to bring home to the family.   Thank God the margaritas were 2 for 1 all day.
That should catch us up for while.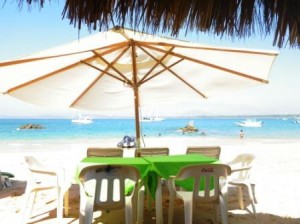 We are enjoying our stay and will be here for a week or so before moving on.   Our dive tanks are out of certification and being updated now and Lisa has been in to see the dentist and needs a quick follow-up later next week.   No issues just some routine maintenance.