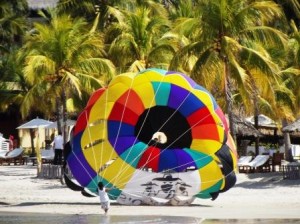 Life has definitely slowed down for us in Zihuatanejo.   This morning were discussing that we have been here for almost 20 days and it really doesn't feel like time has passed by at all.   Of course we are waiting on parts, or this time service to be performed on our dive tanks, but that really is not bugging us that much.   Most of the days here have been very pleasant with a light breeze coming out of the North and a comfortable 80 degree temperature.   Our typical day consists of waking early and having a cup of Joe while the sun rises, listening to the radio nets if we are in the mood or putting on some soft jazz as we nose into the morning and then sometime around 10 AM we get breakfast going.  It could be that this schedule just coincides with noon so we can think about street tacos or a couple of cold cervezas prior to pulling something out for dinner.   We still have our daily palaver on the front deck to discuss the coming days and how we will fill them but really the days seem to fill themselves without much work on our side.
We have visited a couple of nice restaurants and some others that had table fare not quite to our particular liking but things are a bit different in Mexico anyway.
Our Garmin woes have not gone away but they are not taking up much of our time either at this point.   We sent a mail off yesterday to see if they would just replace the unit again so we can roll on our merry way.   We hope to hear back today or tomorrow.   As we have said many times before we love the GPSMap 4208 when it works but golly I can't think that the units we have are typical of Garmin.   If they are I am sure that Raytheon, Furuno and Simrad will soon acquire the Garmin marine unit as they will simply not be able to get away with shoddy work for much time.
Assuming we get our tanks back this week we will be shooting north again.   We believe we have hit our apogee for this trip and will start to make our way home soon.   The deeper into Mexico we go the more we dislike the anchorages, water clarity, fishing and availability of parts.   We have always known that parts would be a problem so on the list of things that make us want to return to the Sea of Cortez, parts rank pretty low, but the others are the big three reasons for making a U-turn.
We have spoken with way to many folks that have gone further south and report that while there is an anchorage or two that should not be missed, by and large the anchorages that we have visited since leaving the Sea of Cortez are typical of the trip south.   For our limited amount of money and time it just doesn't seem worth the expense when we know that 700 miles north we can find quiet anchorages, fish and water clarity that doesn't have you scurrying for a fresh water shower when you exit the water.
So there you have it, our plans are a bit changed from the original but that shouldn't come as a surprise.   We have always written our plans in the sand so changing them is easy for us.   For now we will hang out in Z-what and enjoy the wait while our dive tanks are re-certified.   Zihuatanejo ranks high on our list of large cities that we would re-visit again.  The town really is just a fishing village albeit with about 100,000 residents.   The tourist shops can get in the way if you are near the water front but other than that you do feel like you are in another country as the large hotel chains have yet to appear and almost every hotel in town looks to be independent without any affiliations to international brands or influences.