OPI-1 our (Own Private Idaho), finally.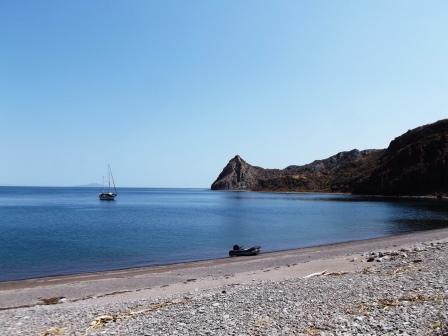 Our original thoughts about cruising included seeking out off the beaten track and undiscovered coves and anchorages. We have been successful in finding the "off the beaten track" locations. Heck we were 1 of 4 boats to visit Altata back in 2008, 1 of 3 boats to visit San Felipe last years and one of a handful of boats to visit the island of Refugio last year as well. With so many anchorages in the Sea of Cortez and really so much documentation it is hard to find places that had not been discovered or written about, OPI-1 is one that we have yet to read about.
Isla Carmen is well traveled and we by no mean believe we are the first to come to OPI-1 and anchor, but it is fun to find a place that is not documented, actually it is real Marco Polo stuff if we say so ourselves. It took two dinghy trips to ascertain that there was enough room, depth and wind protection to support Beyond Reason. Our final trip was this morning.
OPI-1 is only 2 miles from Bahia Marquer but this morning the wind was blowing in the low teens at Bahia Marquer and after anchoring in OPI-1 we are better protected with less fetch and about 10 knots less wind than at the popular Bahia Marquer anchorage. Currently Lisa is on her way to do a bit of Kayaking and Bill is prepping to dive the waters off the cove in search of natural food that will sustain the voracious appetites of our two favorite explorers. Sparky is hanging out and anticipating his next walk.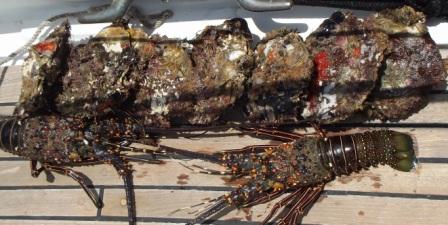 The beach on OPI-1 is actually much better than the other nearby anchorage as well. On a scale of 1 to 10, the beach would rate a 5. The sand is really a millennium from being soft and may never turn white, but it is not boulders and shale either. Beings that it is not really sand the cleanliness of the beach really helps it achieve it's 5 status and the view doesn't hurt either,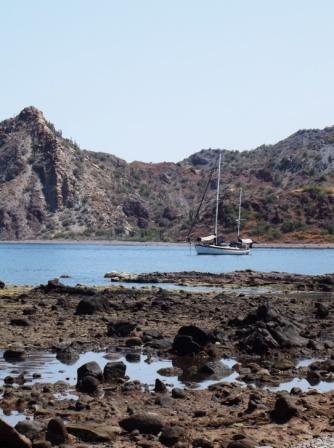 we just can't give a better score since you would still want to wear sandals or foot wear if you were going any distance from the water or dinghy.
That's it for now. We are still looking for OPI-2. Have a great commute. Oh, our location if you want to Google it: 25.53.783 North by 111.12.890 West.