We've been working so hard here in Mazatlan we almost forgot why we were in Mexico in the first place, relaxation and adventure and drama, so we took a little time out yesterday (Sparky, Lisa and Bill).    For the last five days we have been either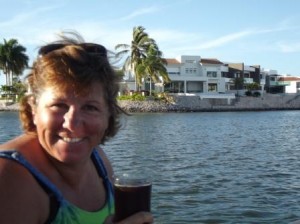 fighting with boat yards or working on the boat.    The new coats of varnish are starting to pay off and within a couple of days will be completed.   It was a bit more work than Lisa had anticipated:  "Should take you about two hours to sand the varnish down, right Bill?", she had said.    The trouble was she hadn't anticipated that Bill would be taking the bulwarks down to bare wood and with the accumulation of 10 years of Bristol Finish being reduced to dust it took the better part of 10 hours in the burning sun to complete.   Lisa took to brightening up the inside of the boat and also bringing the shine back to the large stainless steel anchor that hangs from the port side of the bow sprite.  Although slightly less work than the varnish, the anchor still took a lot of scrubbing, polishing, buffing and waxing to bring it back to a mirror finish.
The boat yard fiasco was another part of the week that filled up three days before we could overcome the trouble.   It all started a couple of months ago when we were trying to decide who we would choose to lift, sand and re-paint the bottom of the boat.   There not being any Do-It-Yourself yards in Southern Mexico we had to find a yard.   Years ago we had the bottom done by Grupo Naval Mar de Cortez/Carlos Yacht Refinishing.   We had asked several people if the yard still existed and got a resounding "No" from everyone.   With this "cruiser influenced" knowledge we decided to work with Total Yacht Works.
Total Yacht Works has been on our radar for years.   We have never done work with them in the past, based on experiences that many of our friends have had with them, we resisted doing work with them at all. Since finding out that they were the only game in town we decided to give them a shot, but with reservations.
We contacted Total Yacht Works, believing they were the only business in town that could do the work. To our surprise we got a very nice estimate on the work that needed to be completed so we made our way up to Mazatlan.   According to the letter we received it appeared we would only have to wait a couple of days before a spot in the yard would open up so we pulled into Marina Mazatlan and paid nearly $1.20 per foot for our boat to spend the night.   The folks at Marina Mazatlan are nice but we just paid $0.60 per foot at one of the nicest resorts in Western Mexico so Mazatlan is a bit pricey.
When we walked over to Total Yacht Works we noticed that Grupo Naval Mar de Cortezor or as we know it, Carlos Yacht Refinishing was actually in business still.   This was a total surprise and something we would have to explore after visiting Total Yacht Works.    As things turned out the yard could not accept us for another 9 days.   With this new information we began to think about the work that could be performed during our waiting days and scheduled Total Yacht Works to come down to the boat and chase down some diesel leaks that we were still experiencing.   With everything scheduled we walked down to Grupo Naval Mar de Cortez/Carlos Yacht Refinishing and out of loyalty to a business that we had had good experience with before, asked for a bottom paint estimate,  After all we had nine days to kill otherwise.
On Monday we received our estimate from Grupo Naval Mar de Cortez/Carlos Yacht Refinishing and several hours later, Bob from Total Yacht Works came out to check on our engine.   Bob arranged for somebody to come out and fix the trouble for the following Wednesday.   After he had left we both discussed the estimate we have received from Grupo Naval Mar de Cortez and decided that even though they could not start the work any sooner we would stick with a company that had treated us so well before and let Grupo Naval Mar de Cortez do the work.   We considered waiting till Total Yacht Works showed up on Wednesday to let them know we would not have the bottom done with them, but then reconsidered and thought the best policy would be to let Total Yacht Works know immediately so they could reschedule somebody else into our place.
We met with Bob again later that afternoon and let him know our decision and asked if that would cause him any trouble.  He was pleasant and said "No problem" and that he would see us on Wednesday.   Wednesday rolled around and no one from Total Yacht Works showed up.   We made a radio call to Total Yacht Works and all they could say over the radio was, "Bob had sent us an email; please take a look at it".   That seemed funny as Bob is in a berth just 2 boats down from us and we hadn't gotten internet coverage during the preceding couple of days.    When we finally looked at the letter it said that because we were doing business Grupo Naval Mar de Cortez, Total Yacht Works would not do any work on our boat!   We were both flabbergasted and frustrated as we had been in Mazatlan now for 6 days and nothing had been fixed or worked on and now we had to find a new mechanic.
The actual "finding of a new mechanic was easy enough. Mazatlan Marine Services was just around the corner and assured us that the work could be completed shortly after the bottom work was done.   With this work now scheduled we began the work on the varnish.
Although we are extremely frustrated with the waste of time that the road to work with Total Yacht Works has led us down, it actually fits nicely into our original opinion of the business.    In the past we have met no less than 5 separate boats (Xanadau, Windward Bound, Itchen, Pionero, Emerald Star, Triple Stars) that had had work done by Total Yacht Works.   In each case the original work performed was substandard and they had to return to Total Yacht Works, two had gotten half way across the Sea of Cortez on thier way to La Paz when they had to turn back. In defense of Total Yacht Works,  they stood behind their work and re-performed the work they had originally done and sent the boats on the way again, completed.   We guess there is really nothing wrong with a business that "stands behind their work", but it seems like such a waste of time to have to get the work done, sail away and then have to return because the job was not completed correctly the first time.  As it turns out that is exactly what has happened to us:  Come in, ask for work to be performed, get the OK, and then have the work denied:  A waste of time.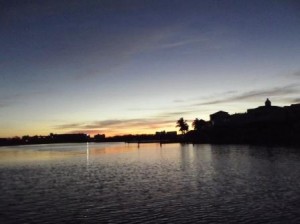 So yesterday we took a time out and all piled into the water Conestoga and took a ride down the canals of Mazatlan that are lined with nice homes and manicured yards.   We ended up watching the sun set as we returned home with the scent of the ocean in the air and a pleasant breeze washing over us.   Adventure and relaxation with a little drama thrown in for texture.