While sitting and waiting for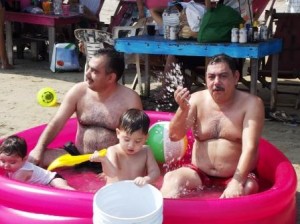 our package from Garmin to arrive from UPS we thought about some of the entertainment experiences we have had here in Mexico and especially in Santiago.   Though the video we are posting is not a full fledged "Curious Productions" videos, we thought it made a good addition to the library of video's we have on line.   As usual all you need to do is to go over to the side bar (that is just to your right of this article) and scroll down to the Beyond Reason Video Gallery.   Click on Entertainment Santiago Style.  If you are still challenged you can just click here as well and it will take you to Veoh which is were many of our videos are also posted.
The video will be best if you turn up the volume and turn down the lights.   It is short so you won't have time for popcorn, but if you are watching this at work you will most likely have time to view it before you boss comes back around.
Enjoy the video then think of why you spend $60 to $100 to go to a Jimmy Buffet, Tom Jones, Van Halen or any other concert.   Ritchie Valens eat your heart out.