Every now and again we like to give endorsements for the things that have worked out well for us during our travels.  As you know we are not afraid to talk bad about companies that have not been willing to work with us or who have put out products that just don't work (ICOM).   Before we left for our second trip to Mexico Lisa subscribed to a company called Predict Wind, (www.predictwind.com) which is a weather forecasting company..
Predict Wind was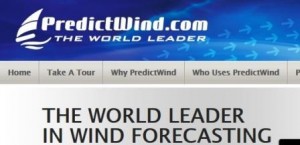 supposed to give us full time weather information that we could use on our travels throughout Central America.  While we were in the marinas Predict Wind worked just fine.   The files were a bit large and slow to load but otherwise we could get fairly good forecasts for the Sea of Cortez and good forecasts for the rest of Mexico and just about anywhere else we wanted.   The Sea of Cortez is difficult since weather here (exactly where we are now) is quite different from the weather 4 miles away from us.
The fact that we had to have internet made the weather downloads difficult as we are often gone for two weeks at a time and many times are away from the internet for thirty days or more before catching up.   For our $19 subscription we really did not get our moneys worth, or perhaps what we got was worth $19 but not much more.   The fact that we did not get our moneys worth is not the purpose of this blog though.  Today we are very satisfied with the service and it all started with a feedback questionnaire that we sent in at the end of our subscription.
Predict Wind had asked for feedback and as I said at the beginning I am not shy about telling what I think of services good or bad.   I would not say that I was kind in my report but I did tell the truth and stated that most of the programming that I was aware of (sometimes we don't read all the instructions) was good for weekend sailors or folks that are moving from one marina to the next.  For people that are a bit off the beaten track (and this would include those that are traveling the intercoastal waterways of the US) the one week weather report that could be down loaded was almost worthless, thus the main reason we were not re-subscribing.   We added a bit more information about what we needed to make the service important to us and to our disbelief Tracy Pemberton from Predict Wind contacted us by email, upgraded our service and asked us to use it again free of charge with a couple of suggestions for getting what we needed.
The first issue that I had about programs being slow was overcome when Predict Wind came out with a mobile application for cell phones.    Lisa was able to download this report without any trouble on both her phone and her Kindle (3G).   The only remaining trouble was that once again we needed to at least have a telephone signal to get the reports and we needed to create our weather requests prior to traveling outside of internet coverage.   On the good side we were not moving far during this summer and after loading up 5 weather request points we were able to travel safely within a 100 mile range.  It was not long before  forecasts soon started to come in via phone/Kindle and we didn't feel quite so alone anymore.  On the very good side, the weather reports were much more accurate than those that we usually take from the Ham radio.   The big problem with most of the Ham radio broadcasts is that they are very Broad.   The Baja being a series of hundreds of different micro climates left the "broad" casts almost useless unless you were crossing to the other side.   We really liked the mobile application that Predict Wind had created and so we started to check some of the other features that Tracy had told us were being developed or already on the web.
The Email version of Predict Winds Trip Planner sounded interesting but we hadn't used it before.  The program requires a bit of knowledge about your average boat speed both to weather (going up wind) and sailing downwind.   From this information it actually plans your voyage based on the date you want to leave and gives you waypoints for where you will turn or when you should expect certain winds.   It all looked very good and when we did the planning on the computer with full internet hookups it worked great.   Since we don't have internet at sea we wanted to try the program with the Ham Radio email service.
Setting the email up with Ham was pretty simple.   We entered our name and password and the coordinates of our passage (start and stop) and sent the email.   We got our response within about 4 minutes.   The message had been received but something was not working with the attachment that was sent.   We discussed the problem with Tracy and the next day she said the issue was already corrected by Predict Wind and to give it another go.   We did but with the same results.   I figured that would be the end of the contact with Predict Wind but amazingly they contacted some of the folks who created Winmor (our Ham email program) and 4 days later Tracy recontacted us to give it another try.  Viola!
Today we have routed weather from the Ham radio (I assume SSB, Sailmail and others work very well also).    The cool part is there are 3 routings which you can compare with.  This helps to determine if the forecast model we are using is accurate.  Additionally there is a Google Earth overlay so you can see your route and even a download of waypoints that can be entered into your GPS so you don't have to enter them manually.
We are very please so far and will continue to test the programs for the next couple of weeks before we use it for real on our way down to La Paz.
Thanks to Predict Wind for working with us and making the proper programming changes to create a usable product.