Still waiting on the Garmin Package we had expected last week.   The card is currently in Guadalajara but expected to deliver into Barra de Navidad sometime tomorrow.  That means that Bill will be taking a Bus into town and then a bus into Barra to pickup the card and return via Bus back to Manzanillo and then by bus back to the boat.
We are not expecting the new map card to do much as we have tried the Chart Plotter both with and without the card and we still have the same issues.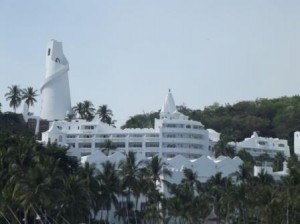 We are troopers though and if Garmin wants us to stand on our heads, we have nothing better to do than do so and then ask them for another new chart plotter to replace the bad one that we have.  We both have are fingers crossed.
On the positive side we are in a lovely anchorage free from most bugs and less rolly than some others we have been in.   The liquer locker is full and we have a chicken in the freezer so how bad can waiting really be.
Sparky has updated his page and Bill is sure to do the same soon.   Lisa is working on a novel so keep your eye's peeled for that.
Diving has not been good on the Mexican side so nothing more to report there.   Enjoy your day commuting can be fun.