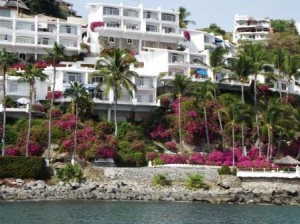 We had to move venues today.   The local establishments did not have internet or big screen TV.   Today we are in Las Hadas.   We moved to get the football play-offs tomorrow and because we thought the local color was a bit nicer for Sunday morning.
Had a bit of a scare today when our main water line broke.   Bill was trying to locate the leak and when he touched a plastic elbow that had a drop on it the whole thing just sort of exploded. 
Typical stuff for us, so Lisa shut down the water and then we both began looking for replacement parts on the boat.   15 minutes later we were ready to depart.  When we coupled that episode with the morning dive we did on an old freighter wreck in Santiago Bay we figured we deserved a bit of a change.   It's a tough life but somebody has to do it.