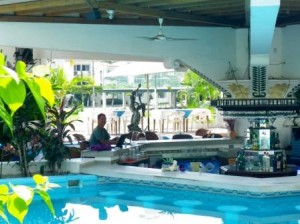 Typically we do not write the home page from a singular standpoint but Lisa asked me to explain why the //WL2K was showing up on some of our posts. The mails (//WL2K) are from our Ham radio. This is the same process that the replica of the HMS Bounty used just a couple of months ago during Hurricane Sandy to contact the US Coast Guard when their ship foundered off of Cape Hatteras. 14 Lives were saved because of this protocol and we are using it today to send updates as we cruise down the coast of Mexico. Be assured there are many radio waves just dedicated to emergency traffic and we avoid sending over those channels.
Today we have spent the afternoon on Carizel cove diving the living coral reef there. For me it was quite an experience as I left my spear gun behind to just enjoy the diversity of fish life that live here. Amongst the reef fish were many Sturgeon fish, Banded Butterfly's, Moorish Idols, Damsels, Blenny's, Sergeants and Trigger fish. Unfortunately we saw very few large fish, but perhaps that helped me along so I didn't get distracted and was able to just enjoy the afternoon snorkeling and lavishing the 80 degree water.
On the Garmin front we have received no emails from them today (Monday). We tested the GPS today and while I was writing this update the unit failed again. Garmin is starting to put them into the category of ICOM radio. No response and a failed product (2 units, 2 failures). I will write more about this tomorrow but for now we are sticking to Santiago until the unit performs correctly. That's it for updates.
We have dinner tonight on Harmony, our friends from Anacortes Washington. We will pick up the GPS woes in the morning. Enjoy your commute; we will enjoy the water, the warm air and the sunset with cocktails.