We finally pulled away from the bottom of the Barra de Navidad lagoon. We gave up, temporarily, on Garmin, picked up our skirts and wandered across the pond and out the entrance.
No sooner had we left the lagoon and all our troubles seem to just vanish. We both know that big cities or large marinas make us a bit on edge and leaving just proved the point.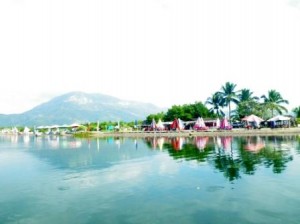 Santiago is only 20 miles south of Barra but it feels miles away. We have already been in the water, which is something we haven't done in almost 2 months. Additionally we are making clean, fresh, reverse osmoises water again.
Everything is well and we are looking forward to another great day. This is being sent by Ham radio, so no pictures today.