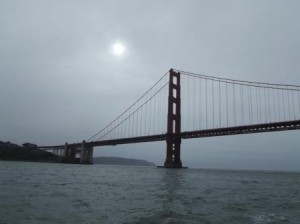 Ah! The land of plenty, home of orange (they call it Royal Purple) cauliflower, vacume sealed, pitted and pealed avocados,  6-ply dog poop mitts and DJ (disk jockey, www.natalieelizabethweiss.com) classes for toddlers under 4 years old. As much as we want to setup a trust fund for our Grand Babies to begin DJ classes we still thought we were ready to enjoy at least some of the treats that this great Republic had to offer.   After all we just came from Mexico and everyone knows that Mexico is a backwards country with poverty, bad phone lines, drugs, crime, undrinkable water, limited access to culinary delights like peanut butter, Johnsonville Brats and tomato paste and a fairly limited curriculum of educational classes for toddlers.  We might have been a little premature.
Having parked the boat we began to get ready to enjoy the fruits and labor of all those people that has stayed behind while we were roughing it in Mexico.  Unfortunately there was just one problem: An inefficient transportation system and no Internet and limited phone service in the marina.  OK maybe that is three things.
We arrived San Francisco Bay yesterday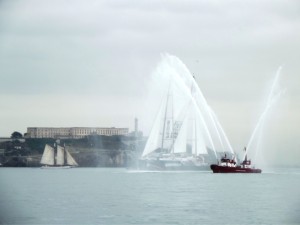 afternoon (not knowing when we will be able to publish this, we should say, we arrived November 19th, 2013) at about 2 PM.   We had a great motor up from Port San Luis and the conditions stayed so nice that we blew off Monterey and Santa Cruz, pulled into Half Moon Bay to top off the tanks with good "Commercial Diesel" and then actually sailed the remaining 20 miles to get under the Golden Gate Bridge.   Surprisingly we had southwest winds for the better part of the trip from Port San Luis and when we left Half Moon Bay those winds picked up to about 16 knots which hits Beyond Reasons sweet spot and we set off at full sail toward home.  The only damper for this last leg of the trip was that it began to rain just after we passed under the bridge.  Heck it is San Francisco so with the smell of sourdough in the air (really) and Dungeness Crab season just opening we were happy to be home, rain or shine.
Lisa had arranged for us to spend the night and potentially home port at Fortman Marina. Fortman Marina is a bit rustic but has great access to the delights that Alameda holds.   It ia also home to the Alameda Yacht Club which is perhaps the nicest/friendliest club we have ever been to, just our style.   Unfortunately we started noticing some small warnings just as we entered the harbor.
The first indicator that the promise land might not be so promising was that we had to back down the fairway of the marina to get to our slip.   Typically there is some turning room in the fairways to allow you to maneuver the boat, but not here.   We guess there is 50 feet between the sides of the fairways and our boat length is 53'.  Even though Bill always brags that he can turn the boat around on a dime, we didn't even try to come straight down the channel to the parking spot.  Instead we turned the boat around and backed down the waterway, passing up perhaps 45 other slips and then parked Kitty Corner into a fairly tight berth.  No dings so all is well and at least departures will be easy.
Once everything was all tied up we thought it best to order a pizza and check in on the internet.  The internet was a bit slow which was a small concern but the biggest trouble was that our favorite pizza joint (Crolls) discontinued their delivery service and we had to pay $33 to have a large (not extra large mind you) pizza delivered from Round Table.  We were starving so price was the least of our worries and we got the pizza delivery working.  It was only at the end of the phone conversation with our Pizzarista that Lisa got a bit concerned: "Delivery time will be 60 to 90 minutes".  If it weren't for the slow internet we may have looked up Domino's when we heard this, but no internet meant patience would be critical so we poured another cocktail. Actual delivery time was 77 minutes, 1 hour and 17 minutes for our slower friends.  Even with this extended delivery time the pizza was warm and we were thrilled with its arrival.
With a bottle of wine and some tasty pizza in our tummies we called it a night around 8 PM.
This morning (November 20, 2013) was fresh thanks to the rain that we had overnight.  Things were looking bright until we tried to connect for some real internet time.  It seems all the free wifi that we used to find years ago has gone by the wayside and even the secure networks this morning were not even showing up on Lisa's computer.  Never daunted by this, Lisa turned on the cell phone for a bit of data exchange; Surprise! No connectivity.   The tide was out in the marina and we found that there was no data connection even through the cell phone in this harbor.   Even a walk up to the harbor office couldn't solve the problem.  "No the harbor master said, you are in a hole and lucky to get cell signals when the tide is up.  We were dejected.
Over the years Lisa has been able to use her Kindle in places that others could not even receive a signal.  Through-out Mexico we have used her Kindle to send emails (yes, Kindle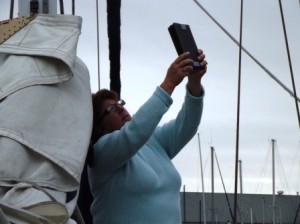 can do this as well as read books) and keep her updated on Facebook as well.   Thinking we could at least look for another marina on her Kindle with it's magical signal finder she whipped it out and Ta-Da, nothing.   Not even the Kindle could find a signal.  She stepped up to the top of the cabin and held her Kindle high as if praising the Kindle God and even this, with arms outstretched could not acquire a signal.  We were out of options, we either have to pay to have a cable network brought in or we will have to move, the promise land might need a bit of improvement before we can call this home again.
For now we will take a walk up to the local Coffee shop, if we can find one without Google Maps at our fingertips and post this update.  After that we could be without connectivity to the outside world for some time.  We can't wait till the Mexican cell phone company TelCel makes its way into the American market.  We never had lack of coverage in Mexico..Heck our favorite anchorage, OPi-1 was 15 miles out into the Sea of Cortez and we had data coverage there.  We are sure things will improve as the week goes on, so for now we will dream about the future of our new Grand baby:  D.J. Giggles, AKA Parker Piel.