Last night the crew of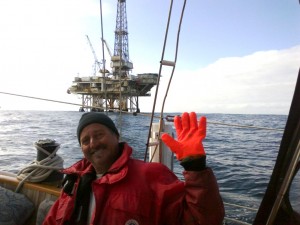 Beyond Reason stayed at Cojo Anchorage, just a bit south and east of Point Conception. Our GPS location was 34 26.725 North by 120 26.301 West. The reason we want to call out the way point is that Bill spent hours looking at websites last week and the only reference to the anchorage with a GPS call out put us on the beach.
Under typical wave and wind patterns our location would have been nice. We have stayed there before and had a very pleasant stay, last night was the exception. About the only thing that wasn't an exception last night was that we sailed to Cojo in 10 knots of wind and when we were 4 miles outside the anchorage the wind climbed to 28 knots and stayed that way till it was time for bed, at which point the wind died, the boat turned sideways into the west waves and we rolled incessantly till Bill woke up and said we were leaving.
We hadn't planned to leave today. Monday looked like a better weather window and we could both due with some extra sleep, but away we went at 0500 this morning. As we write this we can say we have passed up Conception and Arguello points and left them with only about 10 knots of wind in our wake. We are pressing in on Port San Luis which is San Luis Obisspo and will spend a couple of hours there before continuing on to Monterrey Bay or Santa Cruz tomorrow (Monday morning).
The weather midway between Port San Luis and Monterrey looks a bit questionable this evening so we are waiting about 7 hours for more pleasant travel. So Hello, CenCal, and so long SoCal. We hope to see our favorite portion of California tomorrow afternoon. We can almost smell the traffic exhaust from here.