Santa Barbara, and stuck again.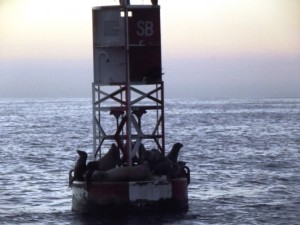 If you don't have the time to waste, don't cruise.  It is always the same, we get in a rush and something pops up.   We fear for ourselves that if we talk bad about the engine it will let go again, but fear not, we are in a rush and now the weather is in the way.
Point Conception has a reputation as one of the most dangerous areas on the west coast to sail around. Some have called it the Cape Horn of the Pacific or something like that.  For our friends in Winters, Cape Horn is the very tip of South America that was notorious for sinking many of the Clipper Ships in the early 20th century and taking the lives of many more sailors on those journeys.  Of course the phrase the Cape Horn of the Pacific was probably coined by somebody in California, as Punta Tosca on the Baja Coast, Cape Flattery in Oregon, Point Sur and the areas around Cape Mendocino in Northern California all have their bad days.  We have been around Conception three times and only once was it tough, passable but tough.  We didn't have to wait for Conception to clear at any of the other times, but this week looks like she is living up to her name and with 15 foot waves every 8 seconds we are going to stay in port for another couple of days before we venture over to Cojo anchorage which is just behind the Point making it a great place to stage for the 20 miles of passage we need to make.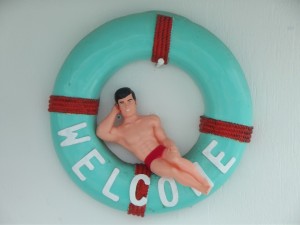 We know in the background everyone is giving us a collective sigh of angst and sympathy as we endure our personal nightmare and test of patience here in Santa Barbara.  Santa Barbara with its steady 75 degree temperature, sunny afternoons, perfect sunsets, happy homeless population and beautiful parks that line the harbor drive.  No it's no picnic here.   Bill walked over 5 miles yesterday locating grocery stores and securing propane.  The poor guy almost broke a sweat, and had it not been for the 5 knot breeze coming in off the ocean Lisa was sure he would have come back glistening like a Spartan warrior, but he didn't.  Bill delivered the propane and reported that the selection of stores was nice and within walking distance, but he never did find Arnold Schwarzenegger, who we were sure lived close by.
With a couple of extra days to burn around here we are not giving up.  Bill is keeping a bottle of Barefoot wine unopened just  in case Arny drops by unannounced and there are always cigars available on Beyond Reason.
Before we close out we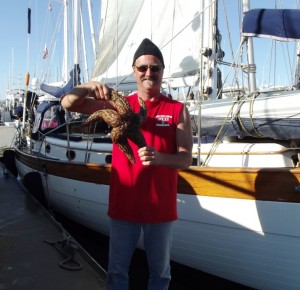 will say that the trip from San Diego was without any trouble.  The fix that we made on the engine took well and even though we ran the engine a bit harder than usual, everything looked good when we arrived Santa Barbara. To tack on a bit of other good news, even Sparky has perked up and with his daily runs on the beach (yes, the beach is just a couple of yards from the boat), back on track he is looking pretty good for an old dog.
Enjoy your commute, wish we were there…since we are not we will take a walk up to the boardwalk and have a tad of ice cream just to help our sorrows melt away.