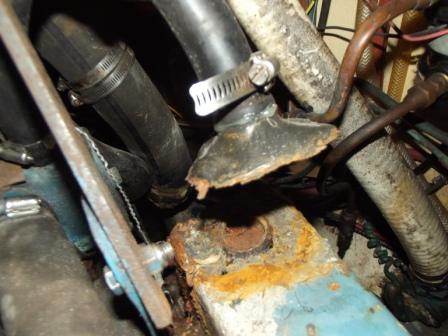 "Oh my God!"  It was Bill in one of his animated moods exclaiming that something had gone wrong while trying to unhook the exhaust pipe from the engine in anticipation of the new manifold showing up on Thursday.  Thursday you might think, being a loyal reader and expecting that we would have received the manifold on Monday  and should be just about on the way up to San Francisco.  Well, if you are loyal you will also know that receiving parts on time has not been a big part of this trip and as usual the manifold got diverted to Sylmar along the way to San Diego.   In the big scheme of things it probably didn't matter since our exhaust tubing needs to be repaired/replaced/welded before we can leave anyway.
We worked out the repair with Harrison Marine here in San Diego and are hopeful to see the new exhaust before Friday night.  The weather is looking pretty nice beginning Saturday morning and having a full week to transit the coast of California would be nice.  Bill has to report to his new job on the 18th, and although his employer is sympathetic to our situation, we don't think it is good to show up late for you first day on the job.
Speaking of jobs, the exhaust pipe removal ended up being fairly easy.  The four bolts that attach the thing came out with just the small exclamation of "Oh my God" when Bill lightly touched the Marine Tex repaired manifold nipple and the entire thing came off!   We had once considered taking the boat up to San Francisco with the quasi repaired manifold.  Seeing how close we were to having the raw water tube break off from the manifold, we are glad we made it to San Diego and spent the money to stay safely in a marina while the new part was ordered.  Bill remarks after the piece snapped off, "Marine Tex may not be the magical solution, but at least it got us far enough to do a proper repair".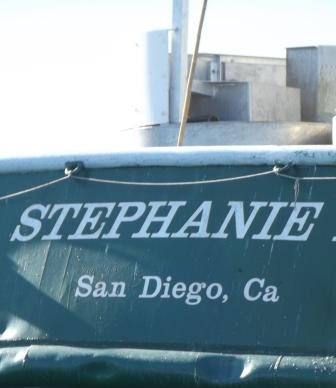 So we hope to have everything back together by Friday night.   Our transit time to San Francisco should be about a week and by then our daughter Stephanie will be just about ready to unload our new grandchild, so the stars are lining up nicely.
The Dude has written up a little blurb on how we feel about taking off and going cruising now that we are on our final leg.  If you have some time, click on over to the Dudes View and spend a couple of minutes with him.
Save room on the freeways for us, and enjoy your commute.