The forecast looks good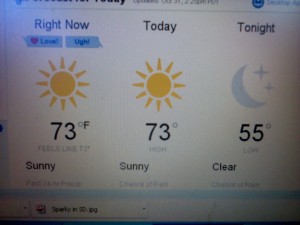 again today if you are from Northern California.  As the stereotype goes for San Diego and Southern California, the weather never changes, 73 today and most likely 73 tomorrow.  For our tastes it is a bit too cold and almost everyday the heater is running inside the boat to get the temperature a little closer to the 80 degrees that we prefer.
Life is starting to settle in now that we have returned from our Norcal visit.  We thought our exhaust manifold would have greeted us on return but we found out the outfit that had the manifold was just to afraid to ship the thing for fear that UPS or FedEx would break it…it is made of metal for goodness sakes, even Bill would trust UPS ground to be able to get it 700 miles without breaking.   Anyway, Bill convinced the guys yesterday that it really wasn't helping us to be in one piece at his warehouse in Washington so please just ship it and we would glue it together if needed.  Hopefully we will see it in the next couple of days.
Speaking of two more days, Lisa is working on painting the engine room today and we hope it is ready for the homecoming of the new manifold.   It has been almost 40 years since the engine room was painted.  It was her opinion that the color needed to change and so Bill is bracing for something in an off-green color.  We will post pictures when it is ready.
That's about it for us now.  The Dude did post a new update that will help you while-away the last couple of minutes of your work day.  If you have time, take a look.  If you are unemployed he is feeling your pain.
Happy commuting