We have done our best to prepare,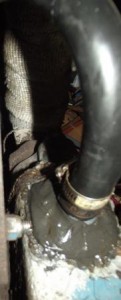 glue and wait for our Marine Tex epoxy to bond nipples, manifolds and hose together.   The bond looks secure and nearly every person we have talked to has given us a positive story about how this little Miracle has saved them in some extreme situation where nails and screws could not do the job.   We are 26 hours from us making the same claim, or at least we hope so.
Approx 6 PM today we will depart from San Quintin and head for Ensenada.   It is not a direct route as we will be shooting almost directly south at first till we hit an arbitrary point about 14 mile off the coast of Baja before heading north west to Ensenada.   We are making this next to last leg as a night trip to pass up Punta Colnett during the calmer hours of the day (approximately 4 AM).  We had trouble with Colnett on the way down to Mexico years ago and are a bit shy of hitting the point Santo Tomas when the wind can really be up, so we are taking the easy way out and hoping that the smaller Punta will not provide us with any trouble as we round it for the entrance to Ensenada early tomorrow evening.   Yes we will be entering the harbor of Ensenada during the nighttime hours but even though we have not made landfall there in the past we figure it is the lesser of all the evils, heck, if we get really confused we will just switch fuel tanks and carry on to San Diego for a before noon arrival on Wednesday.  But all that is just a dream until we figure out if miracles really do happen.
Our point that is 14 miles off the coast is there for three reasons:  Number one it gives us the protection of being far enough off the coast that should the engine fix fail we could probably sail back to safety somewhere even in the light wind conditions.  If the wind is heavy we will just sail back south into the Hurricane Octave, or rather Turtle Bay.  Did we tell you about the Hurricane that was hunting us.  According to the National Hurricane Service Octave should drop behind us and skirt back over the Baja around Magdelena Bay some 300 miles south of here.  The second reason for the 14 mile point off the coast is due to two major water hazards that guard the point at San Quintin.   One is a 12 foot patch of water about 6 miles off the coast and the other is Ben's Rock just south of Isla San Martin.   Because charts in this area very by ½ to even a full mile from what is actual we figured our luck say to make the error big.  The last reason is one of pure laziness.   By being 14 miles off the coast we don't need to turn again after about 10 PM tonight.  The mileage that we see on the chart plotter will be the mileage we have left before turning right into Ensenada.  It helps to make the trip go faster for us and allows us to count down the miles.  Just the way we role.
Don't look for another update till tomorrow, but if the weather is nice and the engine is playing well we will try to update our position as we move north.   We did notice that the "Find Us"  program from Pangolin is lagging a bit.   We put our San Quintin position in but it still has not updated.  
For those tracking us on Google Maps or something similar we are currently at 30 23.922 N by 115 55.567 W.   Our turning waypoint 14 miles from here is 30 17.514 N by 116 10.489.  From there we are a straight line to Punta Santo Tomas