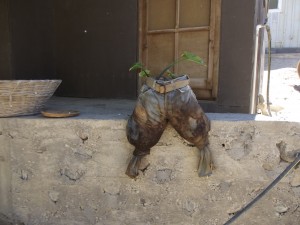 our trip yesterday we would not be doing extra work today.
We had a plan to PUKE since our arrival at Mag Bay.
PUKE is the acronym for Prevent, Underwater, Kelp, Entanglement.
We didn't coin the phrase, we just read about it in the Baja Bash booklet that has been accompanying us since Cabo San Lucas.
The acronym is suppose to keep us on the lookout for kelp paddies and then steer away from said paddy.
Of course we just sit back and let our auto pilot (Ron Rico) steer most of the time.
Heck we have a full keeled boat which should under most circumstances push the kelp to the side and prevent our propeller from becoming entangled.
If you know us you also know this couldn't happen with any more regularity than asking for a day without fog in San Francisco.
Today we are dealing with the aftermath or at least we thought we would.   Bill has been working hard on breaking stuff and Lisa has been trying to keep peace in the house.  Bill did struggle into his wetsuit today to untangle the kelp we thought was on the prop.   It didn't take him long to jump into the 61 degree water, look at the prop, proclaim it clear and get back out.   At least some of our projects are going well today.  The Dude has put a post up on his page regarding some of the other items that were on the list today.  We might or might not have a very big issue, but you will have to read the page to see what that news is about.
On a happier note we did want to share a couple of pictures from Turtle bay that we never got to present.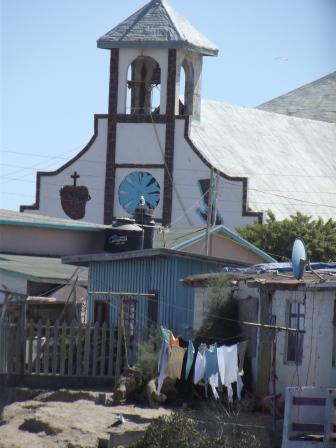 Our favorite is the picture of our laundry hanging in front of the local church, you didn't really think Lisa did laundry did you?'
The church is actually quite nice to look at and being a Stained Glass artist herself Lisa really loved looking at the glass that adorns the church.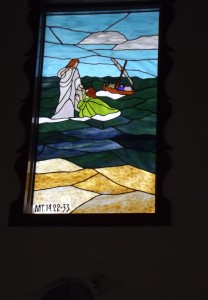 If you like you can click on the stained glass picture to make it bigger.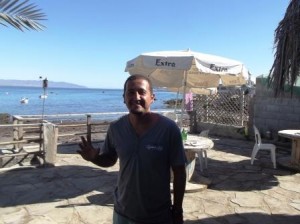 We never really got a chance to introduce our friend Antonio who owns the a new Palapa on the beach of Turtle Bay that we think is one of the nicest properties in the town.   We are sure he will be successful and with all the help that he provided to us there is no doubt he is accumulating a lot of positive karma.
One of the things that Antonio did help us with was with procuring propane.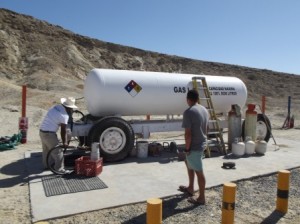 It seems we are always low on propane and Antonio was more than willing to take us out to the big propane farm outside town.   What Lisa did not expect was all the attention that she got from the boys when she got out of the car in her fancy clothes.
Well that about does it for now.   If all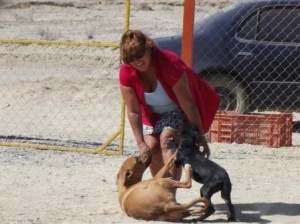 goes well we will get out of here tomorrow.  We are starting to eat up the remainders of our fresh food with Ensenada in sight so tonight is Surf and Turf made with Mahi Mahi and rib-eye steak.  We love roughing it.

If we had paid attention during