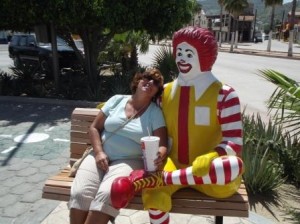 We picked up a go signal today.  One of Lisa's favorite sayings is "Plans, written in the sand at low tide".  Our weather forecasting is a lot like that.   Yesterday was a go until we got pushed back by unpredicted winds reaching 30 knots.   When we returned to the boat the forecasters had changed their forecasts and everything we saw was nearing 20 knots along our entire route.   We looked a little further and the plan looked to be for a Tuesday departure.   Our friend who is pretty good at forecasting suggested that Thursday might actually be better but he would have a second look in the morning and discuss with us.  Today everyone is pointing at Monday being the day to go, we will see.
The trouble with getting out of Cabo aside, one of our biggest fears during this entire trip has been dragging the anchor.   We have never dragged in any anchorage yet, but the nagging little fear is always there when the winds pipe up or we are away from the boat.   There are times where it is hard to relax until we turn the last corner and see our masts still standing in the same place that we left them.   When Lisa hollered down the companion way today you can imagine Bills fear as she said we were getting pretty close to a panga that was moored in the bay with us.  Bill, ever the optimist, said there was no way we were moving and was sure our anchor had set well.
We both watched as the wind played the two boats closer to each other then directed them away again.  Finally it became evident that Beyond Reason was in fact very well stuck to the bottom and that the panga was floating out to sea.   It wasn't much of a rescue for Bill to jump in the dinghy and capture the wayward panga and tow it back to sea but it was a bit of a diversion from the day to day drum pounding at the beach clubs around the Cabo shore.
Speaking of diversions we are taking
a break today to run into town for some last minute supplies (Rum, eggs and butter).   While we are in town we will be dropping by one of the Cinapolus Plaza's here in town to catch a movie and have a bit of ice cream.   Lisa is ever encouraging that the way to start a good trip is with ice cream… Enjoy your Sunday, tomorrow could be a tough commute.