$100 per night does not get you a room at the Hilton in downtown Portland but it would get you a pretty nice place to stay in say, Stockton California.  $100 a night gets you parking in Cabo San Lucas for your boat.   We are documented at 43 feet long so you might be able to park your truck and a 23' trailer for that price if you had to, got to wonder what Wal-Mart charges?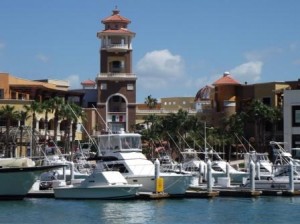 With the cost of berthing we checked out the price of hotel rooms and found we could have a hotel room with a double bed, air conditioning, internet, warm shower with pressure, and a continental breakfast for about $43.00 US.   One would think the marina would provide at least some of these amenities for the $100 nightly price, not.   We are staying at the IGY Marina here in Cabo San Lucas (Island Global Yachting).  According to their documentation "Your distinctive yachting lifestyle is elevated here at Marina Cabo San Lucas where every aspect of a boater's experience is provided for. Your vessel will be moored to a modern concrete dock with 24-hour marina security provided by a combination of guards, electronic key card access, and closed circuit TV, beside internet wireless access.  Electricity is offered in either 110 (30 amps) or 220 (50 amps). Potable water is provided via a reverse osmosis system from the marina's own 40,000-gallon-a-day desalination plant. Guests also enjoy access to cable television in-slip and wireless internet access.  Shore-side amenities at Marina Cabo San Lucas additionally include a full-service chandlery, swimming pool and recreational area.  First-class restrooms and showers, laundry facilities, storage lockers and parking are conveniently located in three complexes across the marina grounds" OK, perhaps they have some amenities here. We didn't try the cable television, but at $38 US a case for beer we skipped over their chandlery.  The swimming pool was a nice size for a marina but the grounds could have shown a bit more care.   The lawn was a bit overgrown and the furniture could have been a little more inviting.  The most notable positive aspect was their cockroach avoidance procedures.   We stayed around the corner at the Pisces Marina last week and found cockroaches that bordered on our experience in San Felipe.  Here at the IGY we witnessed the Cockroach eradication process and were impressed.
To add more to the "distinctive lifestyle" provided for my $100 per night stay they do in fact have very clean restrooms.  Of course where we are staying you still have to hike about 500 yards to find a bathroom or shower, but then we eat burritos all day so the exercise is nice.  What I don't appreciate is cold showers with no pressure, internet that does not function above that what we can steal from across the bay and prices that are way above those you will find in Los Angeles and San Francisco where dodging the barkers for Tee Shirts and fake Cuban cigars (which even if real don't pose any threat to the cigars made in Nicaragua) is never a real problem but here in Mexico becomes a bit tiresome after your second day on the Malecon.
The Port Captain here in Cabo San Lucas closed the gates on the bay so we had to come in or face a fine for remaining anchored while Manuel passed us by.   This has cost us 3 days here in the marina but we guess it is the price you pay to be in Paradise.   If you read the Dudes View you might start to recognize the conspiracy theory that Bill wrote about not so many months ago.  Somebody has a Magic 8 ball here in Mexico and is watching over us to be sure they get every last peso that is coming to them, so we stayed.   Of course when the crew of Beyond Reason stays anywhere we don't just eat and shop from the boat, we find the Magic Money Machine and spend, spend, spend.  We don't doubt that the Mexican Parliament has written in an amendment that states that all Marina's and cities apply the Magic 8 Ball to any chance of Beyond Reason leaving, in other word when we ask if we can leave tomorrow the probable answers is…."Your chances are highly Unlikely"….
We expect that we will be wrung out by Saturday and hope to leave for points North.   If IGY has cooperated with us you will see this message before the 21st of September.  Cross your fingers and pull out your Ouija board, cheat if you have to and get the pointer set to YES.