We've been active this week.   Our new camera came in two days after visiting some remote caves on the east side of Isla Carmen.   To inaugurate the camera we decided to do a little swimming with the sea lions on the back side of Coronado Island.   We hope to have some video of that a bit later on in the week or perhaps in two weeks when we arrive in La Paz.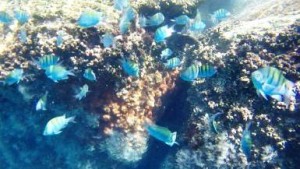 The camera is working great and the ContourRoam2 would have been great to have had during our first two years here in Mexico.
The Dude has posted a new blog and Sparky is making threats that he is leaving the boat if we don't do a bit of dictation for him, so watch for that update coming.   He has also suggested that he gets a little video time.  Pushy dog but he knows what he likes.
Lisa has been keeping the internet alive with connectivity to Telcel just about everywhere we go so we are pretty connected to Facebook and email.   It has been a nice change but the Dude is ready to go back to the old school of using Ham Radio for everything.   The Chick is keeping quiet and casually staying in touch with family while the boon of electronic airwaves is available.
Stay close as the weather is changing and the sea has warmed up to almost 90 degrees, should be good breeding weather for hurricanes.
If you get a chance check the other pages for updates as they could happen at any moment.