Yotreps is a tracking software that helps people keep in touch with where there friends are at on their boats.   We have used Yotreps for a long time but haven't had a link  associated with the website for a while.    If you are interested in where we have been in the last month or so take a look at the bottom of the page.   On the page footer you will find a link to "Find Us".   If you click the link you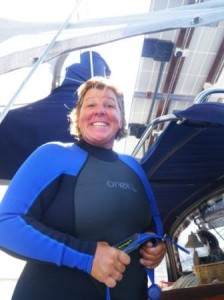 will be transported to the Yotreps site and our tracking.  The name you will see associated with Beyond Reason is SALTYGPA (Salty Grandpa for my Grandson Shane).
A map will come up and you can either enlarge the area or zoom down to a level that is almost on the beach.    We are not good at updating this site when we are not underway, but once we start moving it will be updated daily around 5pm.
Got to go as our friends are ready to go dive on Isla Danzante.   Have fun at work today we are taking Friday off to go play.