We are just about ready to pull anchor this morning.   We will be making a mini-passage to Pyramid Cove just about 3 miles from our current location.   Pyramid is a very popular one boat anchorage that we have not visited, ever.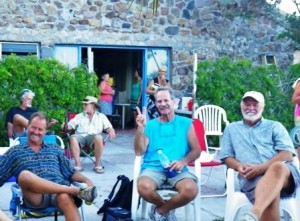 Although we don't have high expectations everyone that goes there just loves it.   It is vacant and we will fill that hole today.
The Dude has placed an update on his page which might be of interest to you that like reading his drivel but other than that it has been a fairly calm couple of days down here.    Lisa has updated just about everyone on her Facebook and has actively pinned numerous dodads to her Pintrest page so she is a happy camper and probably ready to get back to some snorkeling, kayaking and perhaps even a bit of diving if all goes right.   Her birthday is coming up so we have some fun things planned for that big day that we will share later.
The Deckwatch is calling for "anchors up" so enjoy your day at work.