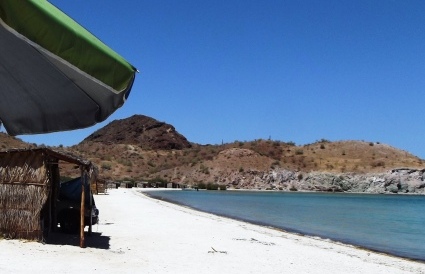 The Chicks page has been updated and we have filled up on all the necessary items to keep us at sea for a couple of weeks.   We have been playing a different game without our water-maker and it complicates our lives just a bit.   Not quite like having to figure out which TV program to watch and which to record, but close.   We now look at each destination in terms of days worth of water left.   Today we are leaving Santa Rosalia with approximately 30 days of rationed watered or 20 days of lavish 2 gallon showers and fresh water washed dishes.  More than likely we will chose the later as more purified water is available just a days sail away.
Such is the life of sailors.  We always have our rum if the water runs low, but sure hate using it to rinse our hair.    Lisa is currently working a couple of sewing projects and Bill is pacing the deck waiting to leave.   We like Santa Rosilia but the anchorage is still and hot and the water is not very tempting to dive into.
Have a great commute today, we will think about you when we arrive on San Marcos Island later today….hope you don't mind if we clink our ice filled glasses in your direction.