We finally gave in.   Most of our friends use their cell phones to download internet to their boats.  We have resisted for a long time and even though we threw in the towel yesterday we only have a limited time before it expires (tomorrow).   Most likely it is a good thing since Bill has spent the entire morning and half of this afternoon uploading a quick post and 3 pictures.   It is no wonder people can spend all day on their machines.  Using a cell phone as an interim modem for the computer is like stepping back to the days of steam powered computers.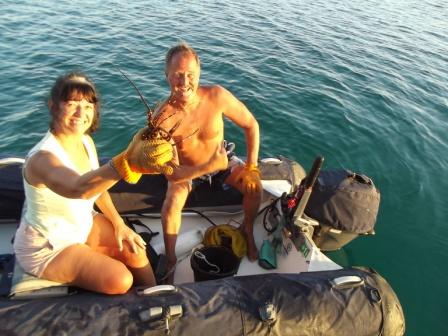 On the good front, we are still making daily runs to the Natural Food Store.   Bill is sure his ingestion of some of the richer fare is causing gout in his foot, but Lisa attributes that to a wasp sting he got the other night after going to bed.  How do you get a wasp sting in bed? Only Bill knows.
The Dudes site has been updated and when we really get some internet we have a great clip of some 20 or so dolphins that paraded around our dinghy while we were doing almost 20 MPH in it!   The water was so clear you can actually see a remora on one of the dolphins and several did large leaps just in front of us as well.   Something to look forward to as you whittle away your pencils trying to look busy at work.  We also have the big Fourth of July Party coming up in El Burro cove that is sure to be fun (we are starting to sound like a news letter here I know).
Anyway everything is marvelous, the water and weather are great in the Bay of Conception.  With or without the small boat problems we are having fun and making people smile. Oh, the picture above is Bill giving our friend Diane from the boat Harmony instructions on how to clean whole lobster from the local market.