Life is tough on board the boat just now. We have been enjoying 80 degree weather with a slight breeze for days on end (or at least since the last time we updated).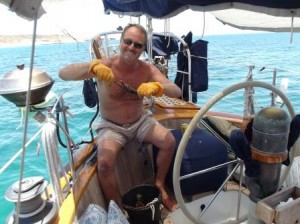 The natural food store has been supplying us with most of our nutrition and what it doesn't we buy from the locals.
Lisa has been suffering with all this green grocer stuff and wanted to publish our meals for the last 24 hours or so; if you are good at math you might be able to extrapolate this menu out for the last week and you would not be far off.
Dinner the last night: Rib-eye steak and lobster tails barbequed with provincial herbs (we have no idea what this is but it says so on the bottle) and broccoli, served with wine.
Breakfast: Lobster omelets with roast potatoes and onions, served with fresh Chiapas coffee.
Lunch: Chunked Parrot fish fillets in rice and teriyaki sauce, served with choice of local beer or Iced Tea and a lemon wedge.
Mandatory nap: Lasts for 1 to 2 hours because of the grueling pace of life around here.
After Nap Cocktail: Rum and Coke or Mango/cranberry and Rum mini daiquiri (served on ice as opposed to blended).
Dinner: Lobster tails in a rosemary butter sauce with fresh carrots, green beans and choice of rice or potatoes served with wine.
You can guess that tomorrow we will have a lobster scramble for breakfast, followed by a Cheeseburger for lunch since we are in Paradise and tomorrow we go to port to get eggs and a couple of minor supplies before coming back out to anchor.
It's going to be a tough summer.