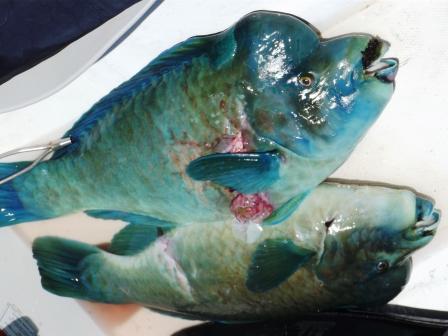 Nautilus cove:  Warm air, no waves, wind blowing 10 knots off the rugged dry landscape, white sand beach and glass clear water, what could be better, oh yeah, the freezer is stuffed with lobster and rib eye steak. One we bought the other we killed and cleaned. We have officially entered the central Sea of Cortez and 3 of 3 crew members on board give either a thumbs or a dew claw up. We expect we could be here for a while.
Nautilus cove is actually on a list of "secret anchorages" that many people know about but not everyone. This has given us a chance to actually enjoy a bit of alone time as we don't believe we have occupied an empty anchorage since well before December of last year.
Having just left Los Gatos we sailed the 18 miles to Nautilus this morning. It was very pleasant. We only touched the steering wheel one time and that was to turn into our new parking place. Sparky immediately hit the beach and harassed the local bird population. We actually should say he harassed half of the population because his eye sight is just about gone on his right side. It doesn't seem to bother him though as he just doubles his energy in working what ever is on his left side.
Agua Verde is just around the corner. It is a very nice anchorage but currently there are seven boats at anchor there. We have heard rumors that beer is available and know that once we run short on vegetables we can replenish in Agua Verde as well so it is nice to have it near by.
We have fresh fish cakes on the menu today and then the beef and lobsters for the following day. Bill plans to check out the natural food store later today to see what else will be making its way into the freezer. With luck scallops will be on the grocery list! A little less drama than we had on the other side of the sea. We are coping.