We have dropped anchor in Puerto Los Gatos. Technically it is not a port of any kind although with a twin cove spanning about 1 mile and 3 boats currently in the anchorage we could consider it a port based on traffic. Actually this is the fewest boats we have seen here in our years of coming to Los Gatos, and since this is one of Lisa's favorite anchorages we are enjoying the fact that nobody is within a quarter mile of us.
Weather has been wonderful and Bill is killing his daily food requirement of fish and those funny looking things that look like they came out of an Alien movie. All of course are delicious when served with either salsa or butter and rosemary leaves.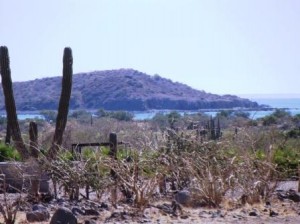 We took a 4 mile dinghy ride out to Timbabichi yesterday to see the famous (in these parts anyway) Casa Grande. We will provide pictures if we ever get back to civilization again.
The famous part of the "Big House" is that it was built by a fisherman who after finding a large pearl in an oyster was able sell the pearl and then afford to build what looks to be a 3,000 square foot home or hotel. Apparently the economy must have dumped after the place was built and slowly it has gone to ruins. Today it needs a new roof, new doors,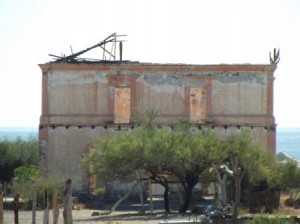 and new beams to hold up the second story and really it could use some new walls to keep everything standing upright. The fisherman might have done better to have purchased a Tortillaria (tortilla factory) as we purchased 12 tortillas from a guy on the beach (he ran home to have his wife make them fresh) for about $4.50 US. That's $0.37 cents each. Typically we might expect to pay about a dollar for 30 tortillas, but Timbabichi is 40 miles from any town by dirt road so we guess there is a premium to pay. All for a good local cause we expect.
Besides the killing that Bill has done we have also be receiving daily deliveries of fresh lobster. If you were hanging around the boat today you might have heard Lisa complain about lobster omelets for breakfast. We are paying less for lobster than for the tortillas so hopefully the city counsel will get together and make some adjustments.
It will be another couple of days before we leave Los Gatos. Our next destination will take us to either Agua Verde or Isla Catalan (famous for rattle-less rattle snakes, so I guess we would just call them Snakes). There are no noted anchorages on Catalan but we have heard rumor that a number of coves surround the island that might work. We will see what the weather brings.