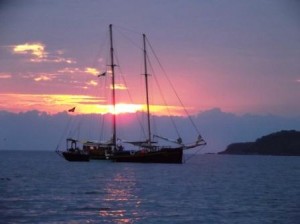 Ah Puerto Vallarta! The area that so many young lovers come to spend their first nights together as married couples, one of the last destinations in Mexico that has not been closed off to American tourists on cruise ships, the land of $1 margaritas and the one of the windiest places we know to anchor north of Zihuatanejo. We had forgotten this last little piece of information when we decided that we would stop in for a little rest this morning.
Of course the trip went along with just the bare minimum of issues and when we arrived there was little wind and everything appeared just beautiful. It is now cocktail hour and the chances of watching the sunset without a wind breaker and ski goggles are looking pretty slim. One bit of good news is that the anchor is holding well and does not seem to be slipping at this time. As for casualties at sea the only real trouble we had was that we lost the water pump.
We were concerned that we might actually lose the raw water pump for the main engine. It has just started to weep water from the bottom of the pump but replacement in Barra de Navidad did not seem like a good option so we departed anyway. To tell the truth the water pump we lost was the house water pump that draws water from our 120 gallon storage tanks. The good news is that the loss of the electric pump spurred Bill into fixing the manually operated foot pump which has been out of commission for a good year now. Additionally who really needs water when we have over 2 cases of good beer aboard that is absolutely chilled. Since we motored most of the way north we are at no loss for power so the ice cubes are frozen, the bath water (which Lisa can't use because the pump is out of commission) is very hot and all the electronic gizmos we use are charged and ready for use.
We have already contacted the Seatec Marine to recheck the rigging they installed in December. There is nothing wrong that we can see but we wanted to do a quick check since we were in the area. Additionally SeaTec seems interested in dealing with us on the bottom painting that we will ultimately have to do when we arrive in Mazatlan next week. We will see what Peter comes up with.
For now we are content to be anchored and resting. Tomorrow we will jump on a bus and head to town and the most expensive marine chandlery (boat shop) we have ever encountered. We are not sure what the new water pump will cost but back home it would be in the neighborhood of $68. Our guess is tomorrow we will come home missing about $200 from our pockets but with the promise of hot showers for everyone.