This posting is a day late for Sparky's official birthday but we did want to bring to you attention that the dog has spoken and put another installment of his thoughts up on his page.   In addition to his big day we asked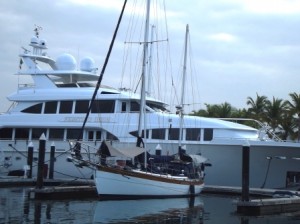 our friends on Fighting Irish to drop on by with their pup so he would have a friend to play with.   We don't have any pictures yet but there is bound to be a meet up between the two dogs.
This could be the last update for a couple of days as we will be leaving  Bara on the next weather window which appears to be Monday.   If you have time spend a couple of minutes with the old dog.   It's Saturday so most of you don't have to commute to work today or tomorrow.  Enjoy your time off.