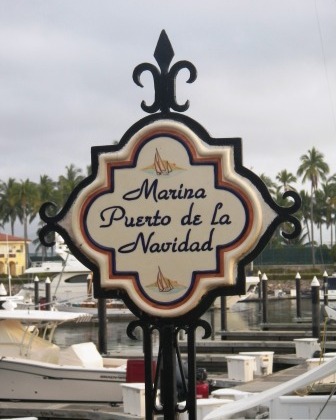 Lisa has returned and with that we decided to move into the marina and give Beyond Reason a well deserved bath.   It has been over 4 months since we were last in a marina and after all the sour waves and dust that we had while down south of Manzanillo the old girl is in bad need of some TLC.   To emphasize just how dirty the boat was we can tell you that the bath has gone on for nearly 3 days now and we are just getting to the polishing part of the clean up.   Of course when we depart in a couple of days for Tenecatita Bay that 14 mile trip will most likely wash away all our efforts and we will once again have a salt spotted boat in need of a fresh water rinse.  With any luck we will finally begin to see some rain, but we are not holding our breath.   Seems the tropical part of Mexico that we are in is experiencing a bit of a drought and we have not seen any measurable rain since around New Years Eve.  Heck, even the humidity has dipped down into the 60%'s and we rarely see even a hint of dew:  Come on rain Gods.
One of the reasons for choosing to stay in the Marina, besides endless warm showers and boat water is the Internet.   The Grand Bay Marina internet signal has shown up on our computers ever since we entered the lagoon here in Barra De Navidad.  Unfortunately at the time it was not strong enough for us to do anything with while in the Lagoon.  Moving to the marina promised to bring free Wi-Fi during our stay, not.   The internet has been down since we arrived at the marina and there is no "Fix" in sight for the foreseeable future.
All in all we are having a good "vacation".   With no concerns for the anchor dragging, snubber chafing through or panga's running into us at night.  Such as it is we are whiling away the hours like rich people, drinks in hand and not a care in the world about what time it is or when we will finish the washing.   Certainly that will all come to a halt in the next couple of days as Marina life usually gets to us about day 6 (we are on day 4). So we will enjoy it while we can and then cast off for our trip north back into the Sea of Cortez.
The Dudes View has been updated.  Sundowners at 5 today.  If you're not commuting come on by.