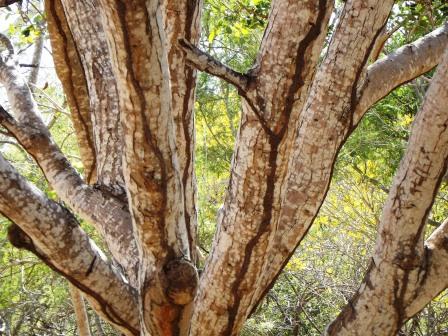 It's 7:00 in the evening and I am sitting in the boat cabin with all the lights turned off sweating like Louis Zamperini after a 4 minute 1500 meter foot race.   Sadly I am not like him, enjoying the highlights of crowds of people swarming me, television camera poking in my face or any of that fun stuff; I am waiting for the toxic Raid bug coils to kick in and make my inferno of a cabin livable without mosquitoes, no see-ums and what ever other vermin decide to invade my little piece of sweltering paradise, here in Barra de Navidad.
As I reflect on my day today I am not sure if the bug coils are "illuminating" my brain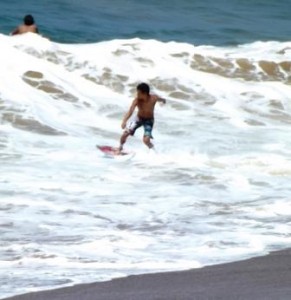 or if I actually did and saw what I think I did.   I have pictures of the skim boarders doing stuff we never imagined when I was a kid cutting round shapes out of plywood to try and skid 50 feet across the wet sand of Santa Cruz beach. I also have pictures of the large cave complete with hanging vines that I discovered just behind a Pemex Gas Station.  Actually I am pretty sure I did not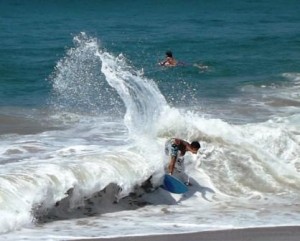 discover it since there are Chevy pickup truck tracks deep inside it but I have pictures just the same.
The dancing girls that celebrated my 2 mile walk along the beach to Malaque I am a little foggy on but the Canuk that I met I am sure he was real.   He claimed to be another guy named Bill but you never know with those Canadians, heck half the people in Mexico are called Bill, Guillmo (sp), Memo or some derivative of William.  The other half of course are name Jim…Jaime, whatever.   The Canuk told me that Gringo's (he actually hesitated when he said it much like you might hesitate calling a dude from Africa, bla…ok Black).   I was surprised since I thought that Canadians were Gringo's as well but I guess it doesn't apply to all white guys…hooray I have my own racial epitaph…Gringo, say it loud my brothers!
Anyway, Gringos are low on the list of foreigners according to the Canuk.   It all stems back to our "Weapons Embargo" during the First World War apparently.   Most of us think that Cinco de Mayo was the big day in Mexico.   Of course that was just kicking the silly French out of town and there is barely a mention of it in Mexican history.  15 September is a bigger day and the real Mexican Independence day but apparently when the US decided to blockade Veracruz in 1914 somebody took some umbrage.   I am not really sure if it was the Mexicans or the Canuks but either way there are tons of monuments that have been erected for the war dead during the couple of day battle in 1914 and according to the Canuk that puts US personal in the number three most disliked position just behind the Canadians who are firmly behind the favorites of the Mexican society, the Irish…really.  Andy Runy and what ever that guys name was on Black Stallion that looks like a leprechaun are Mexico's favorite people.
Following "Memo's" historical recounting I had another beer.   He said the good thing about the Arms flowing from Germany to the Mexico in 1914 was that some of the Germans stayed and helped to create good beer that you have to add lime to too endure.  I clinked my Corona glass to his.
Don't think I am a hater here.  I like the Canadians, some are my best friends.   Really I was kind of digging the fact that some people might not think that all of us Americans are loveable, I'm good with that Bad Boy side.
When 3 more Canadians joined our table I remembered that I had to get to the ATM before it closed so I picked up, paid my tab and moved down the street.    I am sure I saw a dually Volkswagen pickup truck made out of a 1970's VW bus on the way to the Bank but the Raid coils seem to be chasing away most of the mosquitoes now so I am not sure what I am making up and what was real so I will just go on.   The Bank was a small item for me to fulfill, but just outside was the typical gauntlet of amputees, old women and children that Sally Struthers should have helped years ago all wanting my cash.  One amputee spoke good English and had a dog that looked nice so I did part with some change along the way.  The funny thing is that his "donation" jug was an old bottle of Clorox (empty).   I felt a connection and wanted to tell him that as a kindred spirit I too almost lost my legs/life when I added too much Clorox to our water tanks back in Puerto Vallarta (Check the Dudes View in the December Archives).   I don't know if that was his actual problem but the tie in really helped my part with my 5 pesos.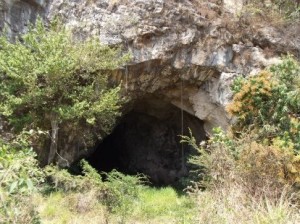 As I began to walk back home I figured I might as well go by the cave site that I mentioned at the top of the post.  I have pictures so I am sure when I tell you now that I believe the cave may very well be that of El Hombre Murcielago, you will believe me.   No that does not mean the guy with the cool Lamborghini, it's Batman.   There were the tracks in the mud at the end of the cave and perhaps it was not the tracks of some Chevy pickup, but then again, I am burning the coils from both ends so my dosage is twice that approved by the Mexican EPA.
Have a great commute tomorrow, 1 day till the big one.