Birthday time and even Google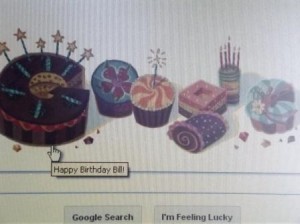 remembered to wish Bill a Happy Birthday, it doesn't get much better than that, well actually it did, Google even posted a birthday cake on it's website for Bill as well.   To make it even better (that is two better now), the town of Melaque, Jalisco, Mexico has thrown an all week party complete with fireworks, a burning, missile throwing, 60 foot high whirly-gig tower and a bull that shoots flaming torches into the crowd.  Could it be better..yes.  Just as Lisa was making breakfast for Bill, the French Baker came by the boat and offered up fresh French baguettes for Bill weekly French toast.   Not enough yet, it is a NASCAR weekend and the favorite driver of the good ship Beyond Reason has taken the pole position (that's four better).   All this and it is not even noon here in Mexico.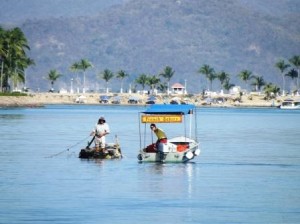 We wanted to share some of this goodness with others so while the French Baker was at our boat we purchased another $6 in credit from him and asked him to go out to local fisherman who plies the waters of the lagoon each morning with his row boat while casting nets out to catch bait fish for the larger boats.  The credit we purchased was so the fisherman could share a croissant or pie to celebrate Bill's birthday as well (Nothing better than that, huh).
Life has been very relaxed here in Barra de Navidad for the last week as we catch up on small projects that were delayed while in the ports of Zihuatanejo and Santiago.   One of the bigger projects was taking care of our visas and getting on the good side of questionable legality with Mexican Immigration.   We are pretty sure we have been legal the whole time for the last two months but have been living off an exit zarpe without any visa's what so ever.   Following a three hour interrogation  we still do not have visa's but we do have an official looking letter from the Mexican Government saying we have 30 days to exit the country for a couple of hours before being allowed back in.  Lisa will be the first to go, good luck Lisa.
Other projects included cleaning our fuel tanks, cleaning the water maker, cleaning the boat interior, cleaning the dinghy and doing laundry.   It's not that we haven't done any of those in the last two months but things get awfully dirty when you are living in a very active shipping zone and commercial center (Manzanillo).
So tonight as we continue to make this a better and better day, we will finish up with Bills birthday and hopefully be able to provide some video of the fire and destruction that goes on during the celebration of Bill's birthday (That's a seven times better birthday if your keeping track) in Melaque but just in case you can't wait, or more likely we can't get the video we are going to leave this link.   It is not ours but Lisa felt it was a good representation of the celebration.
Tomorrow is Monday, enjoy your day before the big commute.