This afternoon we went into Manzanillo to complete our business.   Actually the business day (picking up Bill's eye glasses) turned into a Gringo calibration of sorts.   To start the story off correctly though we have to look back at Friday when we were visited by our new friends Diego and Joshua.   At the time they looked like two guys that just swam about a ¼ mile off shore (they did).   This afternoon we ran into Joshua and his father and brother at the local 7 eleven or OXXO (the hugs and kisses store).   Joshua wanted to thank us again for "saving his life".   We explained that we just thought he was tired but he insisted he was ready to die.   Again we told him no trouble and that we really enjoyed the visit.    The next thing we know his father is asking us to jump into the family Conestoga and off we are whisked to the local grocery store (our intended destination).   We figure that was a good use of Karma.
Following the successful retrieval of Bills glasses we needed to go to Starbucks for some coffee and internet.  Of course we failed to get all the updates in as "somebody" failed to load all of them on to the thumb drive we took to shore.   Frustrated but caffeinated  we decided to visit the local Wal-Mart for some small cleaning items then while we were in the area and the new Home Depot had just opened up we walked down the street to visit it as well.   We made the big purchase of some plumbers putty and a roll of masking tape then figured while we were doing the "travel American Style thing" we should just put the crown on it and visit Burger King as well.
Completing our Trans fat ingestion and still feeling the caffeine, supplemented by more caffeine from the Pepsi's consumer at the King of Burgers, we wallowed home to get some rest.   The beach departure was successful but the surf was pretty big and the chances of making it our without soaking everything was looking slim at first.   Once home we hardly had time to put our clothes on the line (yes, we got a little wet), when Bill yelled down to Lisa that perhaps she should put a stitch more clothing on as we once again had guest swimming to the boat.   This is the part that we believe we have been Geo cache scammed.   We're not sure if that is even possible but three days in a row we have had people swim out to our boat and casually say hello.   Today it was Ivan and Marico from the cities of Colima and Guadalajara.
As usual we invited them aboard.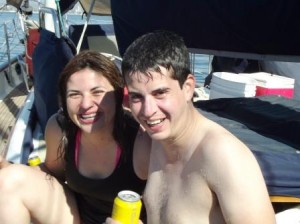 Gave them towels (our laundry bill this week is going to be high), and beverage service then sat down with them to find out what they were thinking when they swam out to the boat.   We ended up going through the better part of a twelve pack of beer before they said they too had friends on the beach that were waiting for them.   To get them safely ashore we offered the dinghy for transit and it was gratefully accepted.   The funny part of all this is when we dropped them off we were sure their friends had been detained by the local police and were being held against the wall of a million dollar home on the beach.   Perhaps it was mistaken identity, but that is our story.
You should now be able to see the update that failed to post yesterday on the Dude View.   Happy commuting, we are having a blast again.   P.S., if our boat is a Geo Cache destination we hope somebody will let us know so we can offer a better prize when these folks finally find us.