We made it to Santiago.  We had to stop here because we still have some unfinished business with the town of Manzanillo.   The weather has been great with temperatures in the high 70's all week.   Actually it has been cold enough at night to have a full set of sheets on and a small blanket on our feet.  Curious about night time temps?   71 degree's.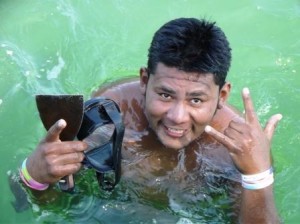 Over the last week we have met so many new people.   First was Daniel Vasquez.   Daniel is a young man that together with his friend rents a canoe a couple of times a week to come out to the Zihuatanejo Bay area and clean bottoms on visiting yachts.   Typically we do not subscribe to this type of service as Bill loves cleaning the bottom and then letting Lisa pick the small shrimp or crabs off his body like a chimpanzee.   Just before we left Z-town we did hire Daniel and he did a fine job of cleaning the prop and rudder which helped to speed us up the coast.   Daniel is available by phone for cleaning jobs at 755-130-1052
Michael and Lilly dropped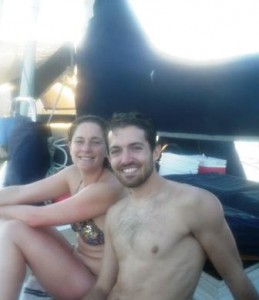 by two days ago.   We were up on deck drinking sundowners when we notice a couple swimming out to the boat.   A couple swimming is pretty normal in Santiago Bay but we are anchored a good ¼ mile from the beach.   Surprisingly they both made it out to the boat and when they said Beyond Reason was a good looking ship we just had to invite them aboard.   We offered them towels and a cold beer which they gratefully accepted and then they told us they were medical students from Berkeley CA.   Apparently they had told their parents they were down here to do good for the community but really they were just goofing off mostly.   Lilly is a pre-med student and Michael actually is doing some ecological training for the kids in the local schools.   When they completed their beers they both jumped in the water and swam out of our lives.
Michael and Lilly were fun but yesterday we had Diego and Josue come by.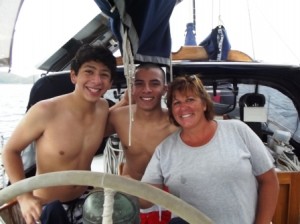 Once again we noticed a couple of people swimming towards our boat.   We figured that Michael and Lilly could not get enough of our company but really it turned out to be two young Mexican college (well very mature high school) students who noticed the name of the boat.   When we asked Diego why they swam out he said, "We saw the name of the boat and figured it was Beyond Reason to swim out to it" so they did.   Josue had cramped up pretty good on the way out so when they came aboard we offered they typical nourishment you find on board our boat but all they would accept was water.   10 minutes after their arrival some of their friends on Jet Ski's dropped by and picked them up.   Not quite as dramatic as our med school acquaintances but fun just the same.
Both the Dudes and the Chicks area have been updated.  It might be worth a minute to check out those sections if you haven't already.