We have arrived in Mazatlan.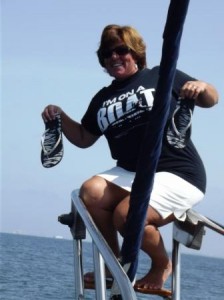 The trip was basically uneventful even though we did have a little excitement yesterday when we ran into a long line that is used to catch Marlin and other large fish.   Somehow we caught the line on our Bob Stay or as my brother affectionately calls it a "Cheese Cutter".  This is the line that holds the bow sprite from being pulled skyward when we are sailing.  Anyway it hangs off the front of the boat and somehow caught this person's line.  The line extended perhaps one quarter of mile on either side of us with thousands of hooks.
Lisa was quick acting and tossed Bill a 12″ kitchen knife to saw through the line before it had a chance to wrap around the propeller and all was well again.  The rest of the trip was just a motor boat ride in fairly calm seas.
The big news is that the Dude has posted his side of the little show we saw while in La Cruz.   It is fairly long but it is educational.   If you tried real hard you might get college credit for what you read but we are not making any promises other than it is bound to entertain and perhaps incite some emotion.