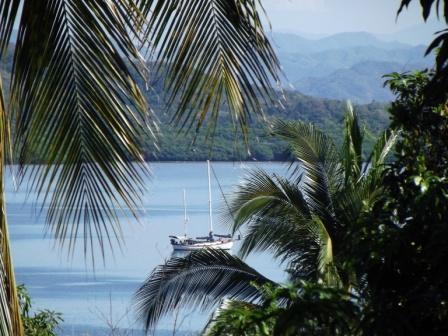 "No Senor there is a problem".   We have heard this so much in the last 24 hours we were not sure we would ever get our Visa renewed or be able to leave the country.   We have completed the Mexican Paperwork to finally exit the country.   It was less than easy but we also could not say that it was that difficult either.   The key was finding someone with a sympathetic soul and an understanding of what it takes to move this boat from port A to port B.
After striking out with our "agent" in Barra de Navidad the other day we decided to take a bus trip into the big city of Manzanillo (approx 1 million people).   We encountered no issues on the trip into town and found that the taxi fare was certainly fare in comparison to other trips we have made via taxi (San Felipe comes to mind).   For only 50 peso's we traveled about 10 miles around the city and to the Port Captain/Immigration office.  As directed by our "Agent" we went directly to the Port Captains office.   A security guard assured us we should report to Immigration, but we dismissed him and marched into the Port Captains office with purpose.   To exaggerate that we knew what we were doing we also took the elevator up to the third floor as directed by the agent and there found the administrative section of the Port Captains office.   We were quickly re-directed back to the first floor where the Port Captain himself directed us back to Immigration, so we took a ticket and sat down to wait for the next available Immigration clerk.
Prior to departing Lisa and I put on our best "traveling rich American Gringo clothes" to show a bit of respect for any Mexican Officials we would meet.   We find it important and believe that it has helped us in the past to show a respect for authority.   Of course the Office we entered was filled with Americans and Canadians in flip-flops, torn shorts and dirty T-shirts.   We were embarrassed by our fellow countrymen and neighbors, but quietly bit our tongues and waited till our number came up.   We met with Catrina Torres  and felt like we were making some headway when she called another office to get clarification of the extension we were requesting.   To our surprise she was willing to extend the Visa's by 20 days.   Not quite what we wanted but better than nothing, so we held our breath while she explained that they would extend the Visa's past the 18th of the month by 20 days but we had to return on exactly the 18th to get the extension.
Using our math the extension was only worth about 9 days more than what we currently had since it was the 7th and we had 11 days left till the 18th.   Catrina didn't understand why we were not excited but said that was the best she could do.    Additionally during the conversation she said that we should report back to the 'other" Immigration office on the 18th.   Apparently there are two offices in the area and one if for shipping and the other was the one we were currently working with.
Unfulfilled we left the office and began discussing how we would have to fly to the US and turn-around and fly back to the boat to get our Visa's renewed.    Lisa thought we should walk to the "other office" before we left Manzanillo, so we did.   The trouble with this new office was that there was no English spoken so Bill had to explain in very poor Spanish that we were delayed in Puerto Vallarta for 30 days and that our boat was just to slow to move from Barra de Navidad to El Salvador in the 11 days we had left.   At one point we were sure we had struck out again, but on our second go around something hit home and he called another official.   Next thing we knew we were moving to another office with the immigration man (our passports in his hand) leading the way.    Twenty minutes later some piece of paper appeared and was signed by Bill and the Immigration guy and we were told to have a nice trip, all was good.   Well not quite.
Prior to leaving a call was made to the Port Captain in Manzanillo and he said we had to come back and get the paper signed by him.   The office was just next door, so it was easy to comply but when the Port Captain spoke to us it was determined that he would not sign our "exit papers" but instead instructed us to go back to Barra de Navidad and get the Barra de Navidad Port Captain to sign them since we have never been to Manzanillo by boat.
Unsure of our status we returned to Barra to find the Port Captains office closed (hours from 0900 – 1400 daily).   We returned to the boat preparing for tomorrow when we would hopefully get the paperwork signed, and then make one more bus trip to Manzanillo (1.5 hours in each direction) and another 15 minute taxi ride back to Immigration to return the signed paperwork.
This morning we woke early and shuffled off to the town in the dinghy.   After a quick breakfast and a phone call to another "agent" that was trying to help us, we walked to the Port Captains office.   Again we discussed in very broken Spanish that we needed the papers signed so we could make our way out of Mexico.   All was fine till the Port Captain explained we would have to go to the back in Melaque to pay an exit fee.   Melaque is a quick 30 minute bus ride from Barra de Navidad, so Bill packed up his stuff and caught the next bus.   15 minutes at the bank got Bill the required proof of payment and he returned to the Port Captain.
The Port Captain examined the papers and declared "No Senor there is a problem".   Of course there was a problem, there is always a problem but usually the problem can be solved, and so this was as well.    The bank made an error by entering the wrong account code to deposit our money into.   The Port Captain recognized this and offered to take Bill back to the bank to get it corrected.    Another 40 minute later we were granted permission to leave Mexico.
So we now have an Exit Zarpe with an introduction to some port in El Salvador and the caveat that we might have to stop in intermediate ports along the way to get fuel or supplies.   The way we look at it this was the best of all possible out comes.   We are not beholden to an exit date so weather issues can be respected, and when we reach El Salvador we should be welcomed with open arms.
We hope to leave Barra de Navidad tomorrow or the following day after getting supplies.