It will come as no surprise to readers of this forum that on a bright sunny Delta morning in early May, Bill could be heard crying out to Lisa that "We are sinking" yet again. Lisa's typical response would normally have been "What are We Thinking about", but since we had just launched our latest nautical enterprise everyone was on alert for which part of the venture would go wrong first.
Over the course of the last two years we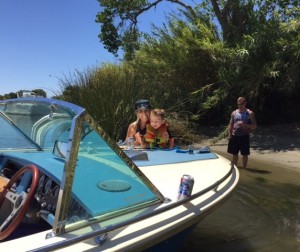 have been working on El Rancho Alla Razon' to great effect and pleasure. The yard has filled in nicely with near golf course quality grass, roses, trees and the like.   40 percent of all the bathrooms have been remodeled, the kitchen remodel is nearly 50% complete, a new staircase was added as well as a supersized pergola, Bill's workshop is looking like the Craftsman Tool Companies poster child and Lisa's decorative touches, which include full interior paint, have all but erased the 1970's atmosphere which permeated the nether regions of our domain.   It was time to do something a bit different.
Beyond Reason of course is still in the stable and ready for the next holocaust, natural disaster or job lay-off.   Before you worry too much about her, have faith that we still wash her on a regular basis. Bill has tended to her thirst for attention by recharging the refrigeration system, replacing several hose clamps and adding a new prop to the al 'mighty bow thruster. Her varnish is a bit pale but that will be attended to before the fourth of July; at least that is the plan. For our real sailing friends that will have concern for us moving to the dark side, ol B.R. has even made a trip out to the Sacramento River and back under sail within the last couple of months.   No we're not giving up sailing; not giving up house work and certainly not giving up on drinking rum, we just needed another venue.
For all her adventurous spirit, Lisa needs her comforts. Heat is one of those and shelter from the delta winds while sipping a cocktail is another.   The shallow waters of the delta do not lend themselves well to sailing a 53' barge around for cocktail hour and the 12' of clearance at the Bethel Island bridge is a bit too low to make evening naviguzzeling any real fun, so it was time for a compromise.
Bill would not settle for trawler. After all, Beyond Reason makes a great trawler with the one exception of its 60' overall height. Lisa would not settle for your standard flat bottom delta ski boat. Neither wanted a typical Bayliner or white on white family boat. For years we have made a statement when we came into harbors and we were not about to change.   Our next boat would have to be unique, loud, fast, have wind and sun shade available and not be something you see every day…perhaps that is the same as unique.
After months of seeking out our new ride we finally found something a bit out of the ordinary in a 1973 Century Resorter.   We had started out looking at 1953 – 1967 Century Resorters just because they were one of the first "go fast" (a Chrysler 440 engine in a 16' wood boat) boats that had a bit of flare without the extreme costs of a Chris Craft barrel back or Riva.   Once we looked at the costs of replacing wood bottoms though we quickly steered towards first generation fiberglass boats. Behold the 1973 Resorter. Add the optional Targa convertible top,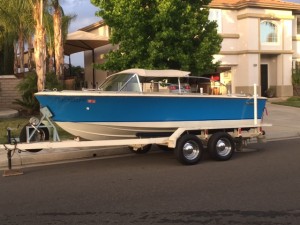 Naugahyde decks, duel straight exhaust and plush seating and we had our statement boat.
To ensure that we would have a story to tell we bought the boat in San Diego which meant a 24 hour road trip and a no turning back attitude when we saw the boat for the first time. Swap some cash, hook up the boat and back home we came, 700 miles, 18 hours, 2 stops and a quart of Pepsi later.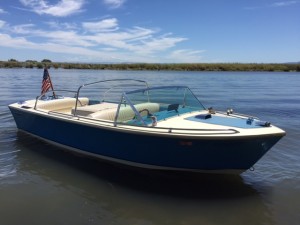 So, on a bright, sunny delta morning we splashed the new money pit. See, it really wasn't until we got it home that we noticed there could be a problem with the engine mounts and perhaps there was a bit of emulsified oil in the bilge along with several wires or instruments that either weren't hooked up or didn't function. The Targa top had a few extra holes in it that we hadn't noticed after our midnight run to Southern California and several of  typical maintenance items were either not accessible or needed some immediate attention.
So with the morning sparkling we paid the ramp master $10 and launched. The boat fired right up with a tremendous roar and we pulled her away from the trailer. Everything appeared well. Mostly. While the engine idled away Lisa returned the trailer to its parking space and Bill began to check for leaks (fuel, oil, water, cash). On Lisa's return Bill sent out the all too familiar Battle Cry, "Honey, We are sinking"!   The inaccessible rudder shaft packing gland was dripping a small stream of water into the boat. The engine purred away while we contemplated pulling the boat from the water, but being a bright sunny morning we figured we had about 8 hours of leaking before the boat would be lost and there was sure to be 5 gallon bucket somewhere on the shoreline to help us bail if needed.
Just as we dropped the last line, the engine stopped. The engine had idled for at least 10 minutes without a hitch, now seeing the lines drop it stopped.   Chug, Chug, nothing, Chug, Chug nothing, Chug, fire and it purred for about 5 seconds then stopped.   Several minutes later we got her to run and decided we would just take her up stream at a fast idle to see what other troubles we could get into.   Well…
As we were pulling just north of the Bethel Island Bridge our cool column shifter went from the "up" position and dropped haplessly downward and pointed towards the floor. Lisa's wisely stated that this new event did not bode well for continuing our tour.   Seems there might be couple of screws that needed to be tighten.   This left us to with having Bill shift the transmission from within the engine compartment. To add to the troubles, we were still having issues with the boat idling so shifting from idle forward, to stalled neutral was a bit tedious. Probably time to head back home, at least it was downstream.
We got our new nemesis back on the trailer and shuffled it off to the vacation annulment specialist (boat repair facility), and unhooked.   Today we were not about to delve into boat repairs, at least not yet.   Stay tuned for the next installment.